Control Therapy: An Integrated Approach to Psychotherapy, Health, and Healing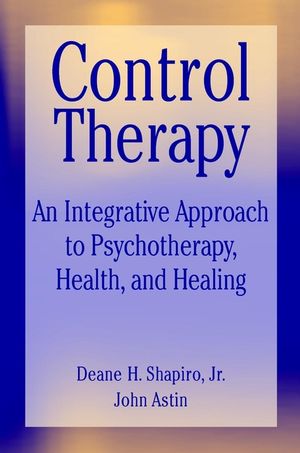 Control Therapy: An Integrated Approach to Psychotherapy, Health, and Healing
ISBN: 978-0-471-55278-9 April 1998 370 Pages
Description
Control Therapy An Integrated Approach to Psychotherapy, Health, and Healing

Nothing is as basic to human dignity and emotional well-being as a sense of control over one's life. Little is as baneful to the integrity of the individual psyche, the quality of interpersonal relationships, or the fabric of a free society as the sense of loss of control—except, perhaps, an irrational and unceasing fear of losing it. From cradle to grave, fundamental control issues shape our personalities, determine how we interact with one another, inform virtually all our important choices, and even provide the themes of many of our most memorable dreams. And, as Deane H. Shapiro and John Astin aver in this groundbreaking book, helping clients achieve a more balanced and realistic sense of control is, ultimately, what every psychotherapeutic endeavor is all about.

Control Therapy: An Integrated Approach to Psychotherapy, Health, and Healing is both a fascinating exploration of the role of control in healthy and disordered cognitive, behavioral, and affective functioning and a practical guide to integrating control-based techniques into virtually any practice. Weaving theory, research, and clinical insight into a coherent framework, the authors identify the personal, interpersonal, and cosmic control issues that run throughout everyone's life. They explore the role of control in nearly every aspect of existence, including interpersonal relationships, family, work, and physical health. They also explain how most major psychological and behavioral disorders can be defined in terms of effective and ineffective control responses. Finally, they demonstrate that control is a major common thread running through all schools of psychotherapeutic thought, including psychoanalytic, cognitive, behavioral, and humanistic/existential.

As one of the primary objectives in writing Control Therapy was to provide therapists of all disciplines with the means of integrating control techniques into their practices, the authors have included various assessment matrixes useful in determining clients' control profile or control story and their levels, styles, and modes of control, and for identifying areas of real or imagined control deficiencies. They also provide practicable guidelines for planning interventions geared to assisting clients in self-assessing the degree of control they have over their lives, whether their control responses are functional, and, most importantly, how to develop more effective control strategies. These strategies include ways to balance and integrate both an assertive/change mode of control and a yielding/accepting mode of control.

Eloquent, wise, eminently practical, Control Therapy: An Integrated Approach to Psychotherapy, Health, and Healing is must reading for all mental health professionals.

"A landmark work documenting the importance of personal control in both mental and physical health. Drs. Shapiro and Astin do a masterful job of weaving theory and research together with practical clinical strategies for facilitating an individual's development of health, mastery, and control."—Kenneth R. Pelletier, PhD, MD (HC), Clinical Associate Professor of Medicine, Stanford University School of Medicine, Author of Sound Mind, Sound Body

"This is an excellent book that touches upon the very heart of control issues in health and human development. The authors offer a unique integration of scientific information and spiritual wisdom in suggesting practical methods for therapists and other health professionals. I recommend it highly."—Michael J. Mahoney, PhD

"The book will make a substantive contribution to the literature, not only for practicing clinicians looking for a theoretical framework on which to base their therapy, but also for clinical researchers interested in the construct of control."—Kenneth A. Wallston, PhD, Professor of Psychology, Vanderbilt University

"A gem, a wonderful integration, and a challenge for psychology, psychiatry, and the health care professions in general."—Gary E.R. Schwartz, PhD, Professor of Psychology, Neurology, Psychiatry, and Medicine, University of Arizona

"A monumental synthesis, giving rise to something profoundly new in Western behavioral science—a wisdom-based framework for understanding self and other and the full spectrum of the possible in the therapeutic relationship."—Jon Kabat-Zinn, PhD, Department of Medicine, Center for Mindfulness in Medicine, Health Care, and Society, University of Massachusetts Medical Center

"A masterpiece on the topic of personal control and how it can be applied in the context of psychotherapy. This is a landmark book and I recommend it highly!"—G. Alan Marlatt, PhD, Professor and Director, Addictive Behaviors Research Center, University of Washington

"An exceptionally thoughtful, thorough, and comprehensive, yet highly readable, survey of a topic of major importance to our individual and societal well-being."—Roger Walsh, MD, PhD, Professor of Psychiatry, Anthropology, and Philosophy, University of California
EXAMINING CONTROL THEORIES.

A Historical and Contemporary Overview of Control Theories.

A Unifying Theory of Human Control.

Developing a Control Profile: Assessing the Theory.

SEEKING OPTIMAL CONTROL IN MENTAL, PHYSICAL, AND INTERPERSONAL HEALTH.

Suboptimal and Normal Control Profiles: Relationship to Mental Health.

Beyond Normal: Toward Optimal Control and Psychological Well-Being.

Control and Physical Health: Coping, Prevention, and Wellness.

Control and Healthy Relationships.

CONTROL AND THE THERAPEUTIC ENCOUNTER.

Knowing Thyself: Therapist Control Dynamics and Orientation.

Client Control Dynamics and Control Stories.

Techniques for Developing Assertive/Change and Yielding/Acceptance Modes of Control.

Technique Refinements for Addressing Client Resistances and Other Difficulties in Gaining Control.

An Overview of a Control-Based Approach to Clinical Treatment: Mental and Physical Health Case Studies.

A Case of Couples Therapy: A Control-Based Approach.

FINAL CONSIDERATIONS.

Next Steps and Broader Implications.

Personal Epilogue.

Acknowledgments.

Appendices.

Bibliography.

Indexes.