Controlling Cholesterol For Dummies, 2nd Edition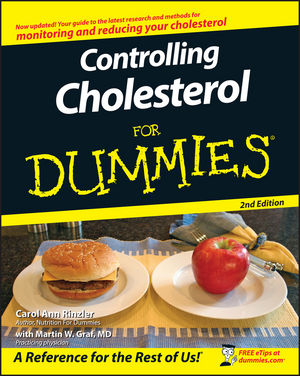 Controlling Cholesterol For Dummies, 2nd Edition
ISBN: 978-1-118-05224-2 April 2011 360 Pages
Description
Need to get your cholesterol in check? You'll find the latest information about cholesterol, including treatments, drug information, and dietary advice, in
Controlling Cholesterol For Dummies, 2nd Edition
, an easy-to-understand guide to cholesterol control. You'll learn how to lower your numbers and maintain healthy cholesterol levels. You'll also find out how to eat and exercise properly, use vitamins and supplements, and quit unhealthy habits.
You'll find out cholesterol's positive functions and why too much can be a bad thing. You can also assess your cholesterol risk by taking your age, sex, ethnicity, and family history into consideration. Find out what you need to ask your doctor about stress tests, ECBT, and angiograms to check for plaque buildup. Design a cholesterol-crushing diet and understand which foods can help you lower your numbers. Find out how smoking, alcohol, exercise, excess weight, supplements, and prescription medications affect your cholesterol levels. Find out how to:
Assess your cholesterol risk
Understand the benefits and risks associated with cholesterol
Design and adhere to a cholesterol-lowering diet
Avoid dangerous drugs
Reduce your risk of heart attack
Choose fats and fibers correctly
Check for plaque buildup
Complete with lists of ten important cholesterol websites, ten nutrition websites, ten cholesterol myths, ten landmarks in cholesterol history, ten foods that raise your cholesterol, and ten foods that lower your cholesterol, Controlling Cholesterol For Dummies, 2nd Edition will help keep your cholesterol levels under control for good!
Table of contents
Introduction.
Part I: Getting Up Close and Personal with Cholesterol.
Chapter 1: Mapping the Heart Land.
Chapter 2: Comparing Cholesterol's Risks and Benefits.
Chapter 3: Rating Your Cholesterol-Related Risk.
Part II: Eating Your Way to Lower Cholesterol.
Chapter 4: Writing Rules for a Cholesterol-Lowering Diet.
Chapter 5: Building a Cholesterol-Lowering Diet.
Chapter 6: Pinning Down the "How-To's" For a Cholesterol-Lowering Diet.
Part III: Leading a Cholesterol-Lowering Lifestyle.
Chapter 7: Weighing Weight's Weight on Cholesterol.
Chapter 8: Exercising Options to Control Your Cholesterol.
Chapter 9: Weeding Out Tobacco's Role in High Cholesterol.
Chapter 10: The Grape, the Grains, and Your Cholesterol.
Part IV: Cutting Cholesterol with Nutrients and Medicine.
Chapter 11: Vitamins, Minerals, and Other Good Stuff.
Chapter 12: Prescribing Lower Cholesterol.
Chapter 13: Identifying Meds That Raise Cholesterol.
Chapter 14: Mouth-Watering Morsels for Special Occasions.
Part V: The Part of Tens.
Chapter 15: Ten Clicks to Reliable Cholesterol Information.
Chapter 16: Ten Nutrition Web Sites.
Chapter 17: Ten Cholesterol Myths.
Chapter 18: Ten (Okay, Eleven) "Eureka!" Cholesterol Moments.
Appendix: Calories and Other Nutrients in Food.
Index.