Controlling Crime, Controlling Society: Thinking about Crime in Europe and America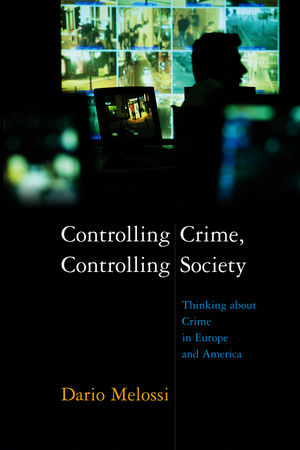 Controlling Crime, Controlling Society: Thinking about Crime in Europe and America
ISBN: 978-0-745-65777-6
May 2013, Polity
328 pages
Description
How did anxieties about crime and deviance emerge in the modern world, first in Europe and then in America? How did they come to occupy centre-stage in the ongoing drama played out in public discourse? And how have theories of crime and deviance related to the actual practices of social control and punishment, and to the main currents of social conflict?

In this illuminating new book, Dario Melossi addresses these crucial questions, and at the same time offers an engaging survey of the theories of social control, crime and deviance. From the early work of Beccaria and Lombroso, via the pioneering sociology of 1920s Chicago, to 60s radicalism and the subsequent emergence of a "culture of fear", the book covers the full range of theoretical thinking in this area, including more recent assessments of mass imprisonment in post-9/11 America. In a sharp and lucid style, Melossi argues that two orientations have always been battling each other in society, one in which the control of crime is paramount, and the other in which controlling crime becomes secondary to the exercise of wider social control.

Conceived and written by a scholar who has been active for many years both in Europe and the United States, the text will be an invaluable aid to advanced students and scholars of sociology and criminology on both sides of the Atlantic.
Foreword.
Introduction.
.
PART I: State, Social Order and "the Criminal Question" in Modern Europe.
Chapter 1: Leviathan's Subjects: From the Social Contract to Cesare Beccaria.
Chapter 2: The "Positive School", Urban Crowds and the Social Questions.
Chapter 3: The Sociology of Deviance of Emile Durkheim.
.
PART II: Democracy, Social Control and Deviance in America.
Chapter 4: Social Control and Deviance in the New Republic.
Chapter 5: Social Control and Deviance In Chicago.
Chapter 6: The 1930s: Between Differential Association and Anomie.
Chapter 7: From the "Neo-Chicagoans" to Labelling Theory.
Chapter 8: From "Labelling" to a "Critical" Kind of Criminology.
.
PART III: The "Crisis Decades": "State", Social Control and Deviance Today.
Chapter 9: The End of "The Short Century" between Inequality and Fear.
Chapter 10: The Cycle of the Canaille.
References
"I strongly recommend the book to students, teachers and researchers ... Melossi's reconnection of criminological theory with sociological, political and economic themes makes this book a 'must read'."
British Journal of Criminology
"Dario Melossi bestrides the worlds of American and European criminologies as few others can. He has been a key figure on both continents across three decades, and Controlling Crime, Controlling Society is his masterpiece. There are many overviews of the study of crime and society, but none that equals Melossi's grasp of primary sources or historical sensibility."
Richard Sparks, University of Edinburgh
"This is one of the most stimulating books on criminological thought I have read in a long time. The sociological reconstruction of modern American and European thought "brings to life" bodies of work that are too often treated as "dead", and illuminates why they mattered then and still matter today. Melossi offers an important reminder that to think about crime is also to think about the problem of social order. Criminology is bound up with reproducing and challenging dominant representations of the offender. This book is a real treat."
Ian Loader, University of Oxford
"Dario Melossi is to be congratulated on his stunning achievement. Controlling Crime, Controlling Society is a tour de force. This is an intellectual history of the concepts of deviance, social control, and the state in North America and Europe over the past two centuries that can profitably be read by criminologists, political scientists, sociologists, and historians. Indeed, it is a "must-read" for anyone interested in crime, deviance, social control, and the state – that is, most social scientists."
Malcolm Feeley, University of California, Berkeley
Written by one of criminology's few internationally-recognised figures.

Has potential to be a classic, "must-read" text, offering a sweeping overview of anxieties about crime in Europe and the US and the public and political responses to them.

Clear linear development through history from the Renaissance to today.

Unique in its comparative approach, comparing a European reliance on the "state" and the US system of social control.

Broadly similar to Mennell in terms of level and style of book (though the markets/contents are of course different).