Controversies in American Politics and Society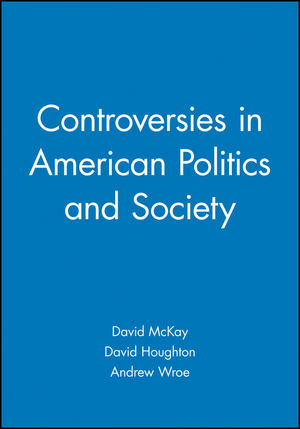 Controversies in American Politics and Society
ISBN: 978-0-631-22894-3
Feb 2002, Wiley-Blackwell
224 pages
Description
Controversies in American Politics and Society provides students with up-to-date reviews of the main controversies in American politics and society.


Provides in-depth discussion of key American political and social issues
Each controversy presents all sides of the debate
Covers issues that are part of daily discourse, as well as those discussed in the media and academia
Can be used alongside David McKay American Politics and Society (Fifth Edition, Blackwell Publishers, 2001) or other American government and politics texts
List of Tables and Figures.
Introduction: Conflict and Controversy in American Society: David Mckay.
Part I: Institutions and Processes:.
1. Divided Government: Does it Matter?: David McKay.
2. Trust in Government: A Crisis of Democracy?: Andrew Wroe.
3. Voting and Non-Voting: America's Flawed Democracy?: David Houghton.
4. Creating a Level Playing Field: Campaign Finance Reform: David Houghton.
5. Containing Presidential Power: David Houghton.
6. The Supreme Court and the Politics of Judicial Activism: David McKay.
7. Direct Democracy: Power to the People?: Andrew Wroe.
Part II: Policies:.
8. The Right to Bear Arms: Gun Control in America: Andrew Wroe.
9. Immigration: A nation State or a State of Nations?: Andrew Wroe.
10. Affirmative Action: The Continuing American Dilemma: Andrew Wroe.
11. Anxiety Amid Plenty: Health Care Reform: David McKay.
12. Capital Punishment: The Politics of Retribution: David Mckay.
13. Providing for the Old but Not the Poor: Welfare Reform: David McKay.
14. The Right to Life Debate: Abortion in the USA: Andrew Wroe.
15. Manifest Destiny and Realpolitik: Realism versus Idealism in American Foreign Policy: David Houghton.
16. America as a Global Economic Power: Free Trade versus Protectionism.
Further Reading.
Index.
"This book explores the most interesting and highly contested topics in contemporary American politics. It is well researched and accessible. The balanced analysis of the protagonists' argument invites the reader to reflect on and join in the debate".
Dr Sue Pryce, University of Nottingham
"A welcome contemporary text that places significant controversial issues in twenty first century American politics and society within a historical context". Robert Melville, Canterbury Christ Church University College

"delivers a series of short, direct chapters on specific issue debates. Most are excellent first introductions to their subjects; sections on capital punishment and gun control stand out especially. The attempt to resolve social science's discomfort with the emotional voices aroused by many issues is notable. The authors' willingness to adopt these voices as an explanatory tool is both refreshing and engaging." Jon Herbert, Keele University, Times Higher Education Supplement, November 2002
Provides in-depth discussion of key American political and social issues
Each controversy presents all sides of the debate
Covers issues that are part of daily discourse, as well as those discussed in the media and academia
Can be used alongside David McKay American Politics and Society (Fifth Edition, Blackwell Publishers, 2001) or other American government and politics texts