Convergence Marketing: Combining Brand and Direct Marketing for Unprecedented Profits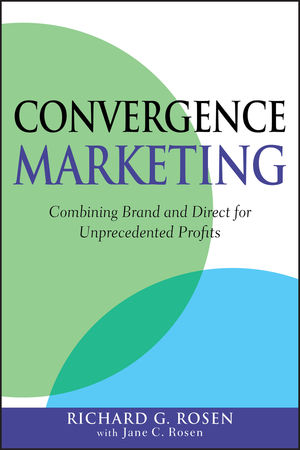 Convergence Marketing: Combining Brand and Direct Marketing for Unprecedented Profits
ISBN: 978-0-470-52239-4
Mar 2009
208 pages
Description
Offering a common language, better processes, and a set of practical tools, Convergence Marketing is a real-world guide that successfully combines the best of brand and direct into something more powerful and effective than either can be on its own. Convergence marketing offers the kind of real-time accountability that positions marketing as a vital and effective component of leadership's overall business strategy. Convergence brings brand and direct together with respect to both disciplines, within the same silos. And it offers the necessary tools and processes that deliver better results. Our global market demands nothing less than this fully integrated approach. Convergence Marketing is the key to shifting marketing communications efforts from a cost-based to a profit-driven model and will have your CFO begging you to spend more money.
Introduction.
Part One. Convergence of Brand and Direct.
Chapter 1. Why Convergence Marketing?
Chapter 2. Getting to Convergence: With the Common Language of Respect.
Chapter 3. Convergence at Last!
Part Two. Measuring the Intention and Success: Process Tools and Practical Applications.
Chapter 4. Accelerate and Drive: The Rosen Velocity Scale™.
Chapter 5. Sales Cycle and Customer Dialogue.
Chapter 6. The Ask and the Offer.
Chapter 7. Expected Value of the Individual.
Chapter 8. Real-Time Accounting: Numbers That Will Set You Free.
Chapter 9. The Brand-Interaction Accelerator.
Part Three. Performance and Balance.
Chapter 10. Zen and the Art of…The Motorcycle Story.
Chapter 11. Case Studies.
Chapter 12. The Last Word.
Index.