Convert!: Designing Web Sites to Increase Traffic and Conversion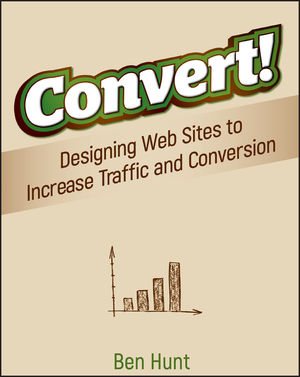 Convert!: Designing Web Sites to Increase Traffic and Conversion
ISBN: 978-1-118-03694-5
Feb 2011
312 pages
Description
Solve your traffic troubles and turn browsers into buyers
When web design expert Ben Hunt set out to quantify the difference between an ordinary web site and a great one, he expected to find the key in design simplicity. But when his team more than doubled the conversion rates for a wide range of sites, they identified simple yet powerful solutions involving design, copy, appropriate analysis, classic optimization techniques, and targeted testing. You'll find the fixes easy to implement, and they're all right here.
Understand the essentials - your market, your proposition, and your delivery.
Create a site that is seen by the right people, provides a compelling experience, and generates the desired action.
Learn how to use testing to improve your site's conversion rate.
Discover the holistic nature of web site optimization and why multiplicity matters.
Examine dozens of simple techniques for building traffic, engaging your audience, and crafting effective calls to action.
Combine creativity with analysis for the best possible results.
Ben Hunt is Principal Consultant for Scratchmedia Ltd. He operates webdesignfromscratch.com, which provides tutorials and advice to over 120,000 web developers each month. Ben has been designing, coding, and producing web sites for clients worldwide for more than 15 years, and is considered a leader in the web usability industry.
Forewords by Ken McCarthy, founder of the System Seminar, and Drayton Bird, Drayton Bird Associates.
Acknowledgments.
Foreword.
Foreword.
Introduction.
Part I Designing for Traffic.
Chapter 1 How to Transform Your Web Site's Success.
Does This Sound Like Your Web Site?
The "First Best Guess" Method of Web Design.
A New Perspective on Web Design.
The New Approach.
Chapter 2 Search Engine Optimization Fundamentals.
Keyword Research.
On-Page SEO.
Off-Page SEO.
Chapter 3 Expanding Your Reach.
What Are You Really Selling?
Researching Your Markets.
Marketing Joe's Miracle Hair-Gro.
Chapter 4 Using the Awareness Ladder.
Your Key to Reaching Deeper Markets.
Why the Old, Narrow Model Fails.
The New Concentric Model.
Chapter 5 Working Through the Awareness Ladder.
Save the Pixel.
Bridge Natural Health.
Muazo.
Imagic2015.
Me2Solar.
Ville & Company.
Bolwell RV.
EasySpeedy.
Applying the Awareness Ladder to Your Site.
Part II Designing for Conversion.
Chapter 6 Making Your Site Sell.
The New Approach to Design for Conversion.
Step One: Modeling Your Site's Funnels.
Step Two: Analyzing Your Funnels.
Step Three: Optimizing Conversions Through the Funnel.
The Three Elements of Conversion.
Chapter 7 Get Their Attention.
Optimization Discipline.
Getting Attention: The Power of Appeal.
Make Your Appeals Relevant.
Self-Interest.
Emotion.
Designing for Attention.
Chapter 8 Keep Them Engaged.
Affirm the Positive Signs.
Resolve Concerns and Build Trust.
Build Interest.
Make It Easy.
Chapter 9 Call Them to Action.
Classes of Next Steps.
Build Momentum.
Six Tips for Crafting Compelling Calls to Action.
Put It All Together.
Chapter 10 Executing Your Web Site Strategy.
Target Early Opportunities.
Create Core Content.
Add More Funnels.
Generate Traffic.
Consider Step 0.
Keep Going!
Chapter 11 Optimizing Your Web Pages.
Google Website Optimizer.
My Optimizer Tips.
The Way of Optimization.
Index.