Cooking Basics For Dummies, 4th Edition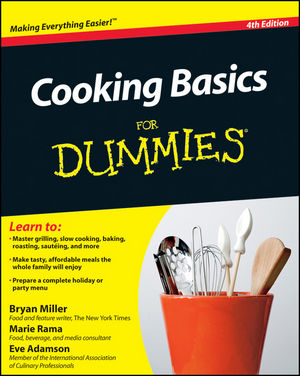 Cooking Basics For Dummies, 4th Edition
ISBN: 978-0-470-91388-8
Jan 2011
464 pages
Product not available for purchase
Description
Basic tools, techniques, and recipes for creating easy, delicious meals
It doesn't take culinary mastery and great recipes to be a great cook. Cooking Basics For Dummies, 4th Edition, appeals to beginners who want to learn the basics of cooking and implement understandable and practical recipes in their everyday cooking experience.. Cooking Basics For Dummies digs you out of microwave dinners and tipping delivery persons and propels you with all the ingredients you need toward becoming a superior home cook. This hands-on guide shows you the fun and easy way to prepare meals all your guests and family members will love, from die-hard vegetarians to the most passionate meat eaters.
Fun, tasty, and easy recipes the whole family will enjoy for every occasion
Covers grilling, slow cooking, pressure cooking, roasting, and sautŽing
Considerations for vegetarians, special diets, and sustainable dishes with flavor and pizzazz
With the help of Cooking Basics For Dummies, you'll be able to handle boiling, poaching, steaming, braising, grilling, and so much more like a master.
Introduction.
Part I: Go On In — It's Only the Kitchen.
Chapter 1: Cooking with Confidence.
Chapter 2: Investing in the Essential Tools.
Chapter 3: The Bare Necessities: Stocking Your Pantry and Fridge.
Part II: Know Your Techniques.
Chapter 4: The Cutting Edge: Working with Knives.
Chapter 5: Boiling, Poaching, and Steaming.
Chapter 6: Sautéing.
Chapter 7: Braising and Stewing: Slow and Seductive.
Chapter 8: Roasting Poultry, Meats, and Veggies.
Chapter 9: Coals and Coils: Grilling and Broiling.
Chapter 10: Baking Basics.
Part III: Expand Your Repertoire.
Chapter 11: Mastering Breakfast.
Chapter 12: Super Soups and Savory Salads.
Chapter 13: From Sides to Mains: Great Grains.
Chapter 14: Making Sensational Sauces: Fear No More.
Chapter 15: Sweet Dreams.
Part IV: Now You're Cooking! Real Menus for Real Life.
Chapter 16: Taking It Easy with One-Pot Meals.
Chapter 17: Making More (and Better) for Less.
Chapter 18: When You Want to Impress.
Chapter 19: Would I Serve You Leftovers? This Is My Latest Creation!
Chapter 20: Summertime Soirees.
Chapter 21: Feeding Holiday Hordes: Festive Winter Menus.
Part V: The Part of Tens.
Chapter 22: Ten Common Cooking Disasters and How to Deal with Them.
Chapter 23: Ten Ways to Think Like a Chef.
Chapter 24: Ten Ways to Cook for Good Health.
Appendix A: Glossary of 100 (Plus) Common Cooking Terms.
Appendix B: Common Substitutions, Abbreviations, and Equivalents.
Index.