Cooking Basics For Dummies, UK Edition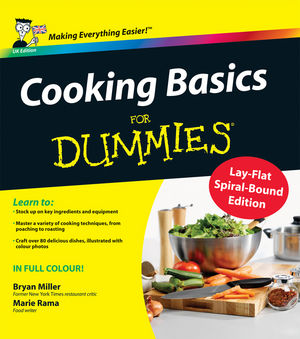 Cooking Basics For Dummies, UK Edition
ISBN: 978-1-119-99693-4 February 2011 316 Pages
Description
The majority of people don't know where to start when it comes to cooking a successful meal.  Packed with easy-to-follow guidelines and recipes, this full-colour, hardback, spiral-bound edition of Cooking Basics For Dummies helps novice chefs navigate the kitchen and learn staple cooking techniques.

The lay-flat binding is the ideal format for the kitchen environment and the full-colour photos throughout show readers what they can expect to achieve from their efforts. 

Cooking Basics For Dummies includes:
Choosing the right tools and stocking your pantry
The essential cooking techniques - boiling, poaching, steaming,   sautéing, braising, stewing, roasting and grilling
Expanding your repertoire with delicious recipes
A glossary of over 100 common cooking terms
About the Authors
Bryan Millar is a former New York Times restaurant critic. Marie Ramer is a food writer.
Introduction.
Part I: Go On In – It's Only the Kitchen.
Chapter 1: Cooking with Confidence.
Chapter 2: Gathering the Tools You Need.
Chapter 3: The Bare Necessities: Stocking Your Store Cupboard.
Part II: Know Your Techniques.
Chapter 4: Boiling, Poaching, and Steaming.
Chapter 5: Sautéing.
Chapter 6: Braising and Stewing: Now That's Home Cooking.
Chapter 7: The House Smells Delicious: Roasting and Grilling.
Chapter 8: Creating Sensational Sauces.
Part III: Expand Your Repertoire.
Chapter 9: The Amazing Egg.
Chapter 10: Stirring Up Soup-er Homemade Soups.
Chapter 11: All Dressed Up: Salads and Dressings.
Chapter 12: Pastamania.
Chapter 13: One-Pot Meals.
Chapter 14: Sweet Somethings.
Part IV: The Part of Tens.
Chapter 15: Ten (Or so) Herbs You Should Know.
Chapter 16: Ten (Or so) Spices You Should Know.
Chapter 17: Ten Ways to Think Like a Chef.
Appendix: Glossary of (Nearly) 100 Common Cooking Terms.
Index.