Cooking for Fifty: The Complete Reference and Cookbook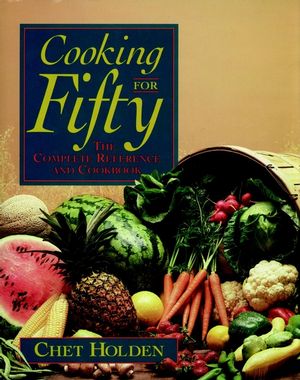 Cooking for Fifty: The Complete Reference and Cookbook
ISBN: 978-0-471-57015-8
May 1993
600 pages
Description
A sourcebook of 300 contemporary, healthful recipes and references that balances common sense with uncommon ideas. Includes nutrient breakdowns for all recipes, alternative instructions for microwave, food processors and other time-saving equipment as well as realistic food costs for a wide range of operations and budgets. The reference section contains a brief course on cooking techniques, conversion charts, equipment capacities, cooking times, recipe reduction and expansion tables and both U.S. and metric measurements.
REFERENCE.

Cooking Methods: Techniques and Timetables.

Equivalents, Ingredients, and Equipment.

Food Quantities.

The Language of Food.

Foodservice Planning.

RECIPES.

Appetizers.

Soups.

Salads and Salad Dressings.

Seafood.

Meats.

Poultry.

Pasta and Noodles.

Potatoes and Grains.

Vegetables and Legumes.

Breads, Muffins, and Biscuits.

Desserts.

Breakfast and Brunch.

Index.