Cooking for Special Diets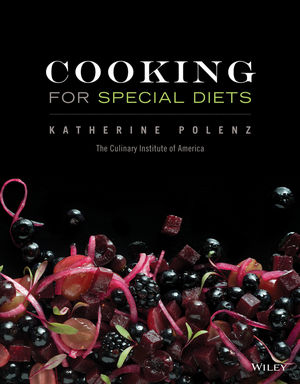 Cooking for Special Diets
ISBN: 978-1-118-13775-8
Mar 2014
384 pages
Description
Cooking for Special Diets provides the skills and techniques needed to address special diets while providing culinary inspiration for healthy, wholesome meals for these consumers and guests. This text teaches readers how to widen the scope of their offerings and create flavorful recipes to meet all kinds of dietary needs. Cooking for Special Diets explains the wide range of dietary challenges of which chefs should be conscious, including celiac disease, diabetes, high blood pressure, high cholesterol, food allergies, and more. Introductory chapters cover general nutrition information, healthy ingredients, and substitutions.   Subsequent chapters provide recipes for a wide range of dietary concerns, from vegetarian, vegan, and low-fat meals to delectable entrees that are gluten-, lactose-, or sugar-free. Cooking for Special Diets provides chefs with an arsenal of recipes that are healthy, versatile, and always delicious.
Preface
Recipe Contents
Chapter 1 Current Health Concerns
Chapter 2 What Is Cooking for Special Diets?
Chapter 3 Ingredients for Special Diets
Chapter 4 Appetizers
Chapter 5 Stocks, Broth, and Soups
Chapter 6 Salads
Chapter 7 Entres
Chapter 8 Side Dishes
Chapter 9 Desserts and Breads
Chapter 10 Pantry Items Charts Glossary Index
Compiles information that professional chefs need to serve their customers with special dietary needs into an easy-to-navigate format.
Approaches recipe formulation from a holistic standpoint rather than focusing on specific calorie restrictions. The recipes focus on portion control and use high-fat and high-sugar ingredients sparingly.
Each recipe has a calorie count and portion size in order to provide information to create balanced plates.
Substitution tables that tell the reader which ingredients can be used to tailor recipes for specific diets.
More than 225 recipes organized by appetizers, soups, salads, entrées, side dishes, breads, and desserts.
Coverage includes creating meals for customers with food allergies as well as dietary restrictions related to heart disease, hypertension, high cholesterol, and cancer.
Provides the skills and techniques needed to address special diets while providing healthy, wholesome meals.