Cooking to the Image: A Plating Handbook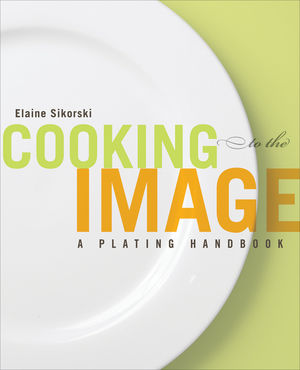 Cooking to the Image: A Plating Handbook
ISBN: 978-1-118-07597-5
Nov 2012
192 pages
Description
Cooking to the Image: A Plating Handbook offers readers a fascinating perspective of a culinary Art that demonstrates taste as not simply a means of creating flavor, but also a cultural context larger than the Professional kitchen. Itprovides future chefs with the prerequisites to cultivate a professional viewpoint of plating by considering the different ways a chef looks at food. Its goal is to provide a map of how a chef creates a plate of food by considering such questions as:
Where in the menu is this food item to be placed?
What food is selected? How is the food prepared? How will it be served?
How is it presented in relationship to other food on the plate?
How much will it cost?
Plating exposes a chef's deepest beliefs about what food is, and how food should be. Structured as a design process, Cooking to the Image: A Plating Handbook outlines how personal creativity and professional traditions fuse to create successful plated presentations of food.
PREFACE ix
ACKNOWLEDGMENTS xiv
PROLOGUE xvi
1 YOUR FIELD OF VISION 1
Seeing Is Believing 1
An Educated Viewpoint 3
Aesthetics: Art versus Craft 4
Artistic Cookery 7
A Quick Glance 8
Queries and Inquiries 9
Citation and Reference Materials 10
2 THE PLATE IN CONTEXT 11
Repertoire 11
Finding a Focus 12
Sequencing Foods 13
Menu Research 15
Reading a Menu 16
Creativity and Tradition 19
Queries and Inquiries 20
Citation and Reference Materials 21
3 FRAMING CULINARY ART 22
culinary Art history 23
Pre-Plate culinary Art history: The Room Frame 23
Pre-Plate culinary Art history: The Table Frame 24
Moving toward the Plate: The Platter Frame in culinary Art history 27
Queries and Inquiries 31
Citation and Reference Materials 32
4 PLATTER TO PLATE: CLASSICAL STYLE 34
Background 34
Classical Style 35
The Classical Menu and Service 37
Plate Design: The Face 40
Major Tenets of Classical Style 41
Queries and Inquiries 42
Citation and Reference Materials 43
5 PLATE FRAME: NOUVELLE STYLE 44
Background 44
Nouvelle Style: Impressionistic Design 45
The Nouvelle Menu and Service 49
Plate Design: The Sun 51
Plate Design: The Fan 51
Plate Design: Island(s) 52
Major Tenets of Nouvelle Style 52
Queries and Inquiries 53
Citation and Reference Materials 54
6 PLATE FRAME: NEW AMERICAN STYLE AND FUSION STYLE 55
Background 55
New American Style 57
Fusion Style 58
The Menu and Service 59
Plate Design: Elemental 60
Plate Design: Duos / Trios 61
Plate Design: The Stack 61
Plate Design: The Mound 62
Plate Design: BUFF 62
Guiding Criteria for New American / Fusion Styles 63
Queries and Inquiries 64
Citation and Reference Materials 65
7 PLATE FRAME: GLOBAL STYLE 67
Background 67
Global Style 68
The Menu and Service 70
Plate Design: Linear 74
Plate Design: Course within a Course 74
Plate Design: Deconstruction / Abstraction 75
Guiding Criteria for Global Style 75
Queries and Inquiries 76
Citation and Reference Materials 77
8 THE EMERGING MENU: INTERACTIVE TABLE SETTING 78
Background 78
Techno-Emotive Style 80
Menu and Service: Interactive Table Setting 81
A Backward Glance 82
Queries and Inquiries 83
Citation and Reference Materials 84
9 DESIGN AND CULINARY PLATE ARCHETYPES 85
Creative Culinary Questions 86
Elements of Design 86
Principles of Design 89
Considerations in Culinary Design 93
Queries and Inquiries 94
Citation and Reference Materials 95
10 LOOKING FOR INSPIRATION 96
The World at Large 96
Mimicry 97
Mental Maps 98
Ingredients 99
Technology 103
Culinary Creativity: A Shared Meaning 104
Queries and Inquiries 105
Citation and Reference Materials 105
11 PLATING THE STYLES 106
Sauce and Plate Designs 107
Preparation Methods and Plate Design 108
Garnish and Plate Design 110
The Plate Itself 112
Soup as an Example of Fundamentals 113
Back to the Menu 115
Queries and Inquiries 116
Citation and Reference Materials 118
12 CRITIQUING CULINARY ART 119
When: Times for Critiquing 119
Why: Reasons for Critiquing 120
Who: The Human Factor 120
What: Elements of a Critique 123
How: Theories Infl uence Judgments 128
Queries and Inquiries 133
Citation and Reference Materials 135
13 CULINARY VALUES 136
What Is Valued by Customers 136
How a Chef Relates to Customers' Values 139
Value in Artistic Dining 140
Values in Professional Training 142
Wrapping Up 144
Queries and Inquiries 145
Citation and Reference Materials 146
GLOSSARY 147
INDEX 153
Introduces the concept of culinary research in chef education, defining the menu as a central component of culinary understanding.
Explores the following to guide you toward creating successful plated presentations:

Your Field of Vision: explains why an educated viewpoint forms the parameters of plating.
The Plate in Context: outlines the guidelines of a chef's vision by relating plate design to the menu.
Framing Culinary Art: uses the idea of art history and culinary craft to create a culinary Art history.
Classical, Nouvelle, New American, Fusion, and  Global Styles, and Interactive Table Setting: provides detailed analyses of styles within the Plate Frame of the culinary Art history.
Design and Culinary Plate Archetypes: explores design by relating various contemporary plate styles.
Critiquing Culinary Art and Culinary Values: guides in critiquing presentation, and considers customer viewpoints by matching consumer values to the work done by chefs.

Elegantly adorned with over 100 photos and illustrations.