Cooking to the Image: A Plating Handbook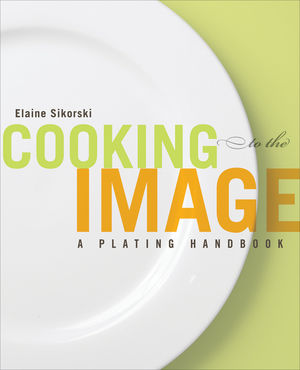 Cooking to the Image: A Plating Handbook
ISBN: 978-1-118-54533-1 September 2012 176 Pages
Description
Cooking to the Image: A Plating Handbook offers readers a fascinating perspective of a culinary Art that demonstrates taste as not simply a means of creating flavor, but also a cultural context larger than the Professional kitchen. Itprovides future chefs with the prerequisites to cultivate a professional viewpoint of plating by considering the different ways a chef looks at food. Its goal is to provide a map of how a chef creates a plate of food by considering such questions as:
Where in the menu is this food item to be placed?
What food is selected? How is the food prepared? How will it be served?
How is it presented in relationship to other food on the plate?
How much will it cost?
Plating exposes a chef's deepest beliefs about what food is, and how food should be. Structured as a design process, Cooking to the Image: A Plating Handbook outlines how personal creativity and professional traditions fuse to create successful plated presentations of food.
Preface
Acknowledgements
Prologue
Chapter 1: Your Field of Vision
Chapter 2: The Plate in Context
Chapter 3: Framing Culinary Art
Chapter 4: Platter to Plate: Classical Style
Chapter 5: Plate Frame: Nouvelle Style
Chapter 6: Plate Frame: New American Style and Fusion Style
Chapter 7: Plate Frame: Global Style
Chapter 8: The Emerging Menu: Interactive Table Setting
Chapter 9: Design and Culinary Plate Archetypes
Chapter 10: Looking for Inspiration
Chapter 11: Plating the Styles
Chapter 12: Critiquing Culinary Art
Chapter 13: Culinary Values
Glossary
Introduces the concept of culinary research in chef education, defining the menu as a central component of culinary understanding.
Explores the following to guide you toward creating successful plated presentations:

Your Field of Vision: explains why an educated viewpoint forms the parameters of plating.
The Plate in Context: outlines the guidelines of a chef's vision by relating plate design to the menu.
Framing Culinary Art: uses the idea of art history and culinary craft to create a culinary Art history.
Classical, Nouvelle, New American, Fusion, and  Global Styles, and Interactive Table Setting: provides detailed analyses of styles within the Plate Frame of the culinary Art history.
Design and Culinary Plate Archetypes: explores design by relating various contemporary plate styles.
Critiquing Culinary Art and Culinary Values: guides in critiquing presentation, and considers customer viewpoints by matching consumer values to the work done by chefs.

Elegantly adorned with over 100 photos and illustrations.