Cooking with Spices For Dummies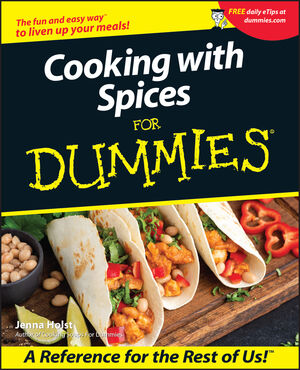 Cooking with Spices For Dummies
ISBN: 978-1-118-06991-2 May 2011 360 Pages
Description
If your idea of kicking up a dish is using salt and pepper, there's a rich and fabulously varied world of spices waiting to be discovered. Mace, coriander, mustard seed, fennel, saffron, and paprika don't have to be those scary, untouchables on the supermarket shelf. Cooking with spices can actually be fun, interesting, enjoyable and, most of all, delicious. Using spices will vastly improve your cooking and make you feel, finally, in command of your kitchen.
Cooking with Spices For Dummies is for anyone who's ever wondered how the great chefs whip up their fabulous-tasting dishes—but wasn't sure how. And if you're something of a veteran in the kitchen, you'll get new, crowd-pleasing tips on how to add sparkle and zip to tried-and-true dishes, like hamburgers and spareribs or sweet potatoes and green beans. Most likely, you'll find the answer to any question you've ever had about spices—plus a lot more—in this handy one-volume guide, like:
What makes up a basic spice collection
Advice on essential tools—including mills, graters, and mortar and pestle
Preparing spices for cooking—including knowing which spices to toast, sauté, or grate
A tour of the world of spices by region and country
Menu planning and menu samplers arranged by country
Once you've become familiar with the basics, it's on to the fun stuff—cooking with spices. After you've followed the simple tips on making the most of your ingredients, you'll be able to comfortably test your skills on the delicious assortment of over 200 recipes, which feature:
Basic rubs and spice mixes—including Cajun, Caribbean, Indian Curry powder, Jamaican, and Southern Barbecue
Marinades and sauces—including South of the Border Marinade and Teriyaki sauce
Salsas and salads—including Tomato Salsa, Plum Salsa, and Spiced Fruit Salad
Vegetables and legumes—including Mashed Spiced Butternut and Vegetarian Bean Chili
Pasta, potatoes, and grains—including Pasta Puttanesca, Roasted Potatoes with Garlic and Cumin, and Curried Barley Pilaf
Chicken, meat, and seafood—including Down Home Barbecued Chicken, Indonesian Beef Sate, and Shrimp Curry
Complete with such indispensables as a spice quantity guide (showing exactly how much you should use), a glossary of cooking terms, eight pages of tempting, full-color photos, and humorous cartoons, Cooking with Spices For Dummies gives you just what you need to know to cook with confidence and create delicious, exciting dishes for your family and friends.
Table of contents
Introduction.

PART I: Taking the Spice Route.

Chapter 1: A Spicy Tale.

Chapter 2: The Spice Rack: A Guide to Dried Spices.

Chapter 3: Fresh Spices, Aromatics, and Spicy Condiments.

Chapter 4: Spicing Up Your Kitchen.

PART II: Spicy Skills.

Chapter 5: Spicy Know-How.

Chapter 6: Make No Mistakes.

Chapter 7: Spicy Combos: A Guide to the Use of Spices and Complementary Ingredients.

Chapter 8: Spicy Game Plans.

PART III: On the Starting Line.

Chapter 9: Basic Rubs and Spice Mixes.

Chapter 10: Marinades and Sauces.

Chapter 11: Salsas and Salads.

Chapter 12: Light Fare.

PART IV: From the Main Course to the Finish Line.

Chapter 13: Chicken.

Chapter 14: Meat.

Chapter 15: Seafood.

Chapter 16: Vegetables and Legumes.

Chapter 17: Pasta, Potatoes, and Grains.

Chapter 18: Quick Breads and Sweets.

Chapter 19: Beverages.

PART V: The Part of Tens.

Chapter 20: Ten Spicy Presentations.

Chapter 21: Ten Spicy Sources.

Appendix A: Metric Conversion Guide.

Appendix B: Glossary of Cooking Terms.

Appendix C: Spice Quantity Guide.

Index.

Book Registration Information.