Cool Memories II: 1987 - 1990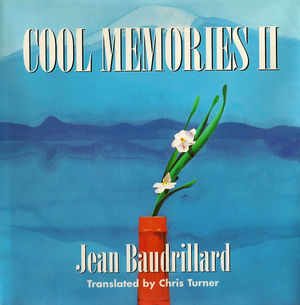 Cool Memories II: 1987 - 1990
ISBN: 978-0-745-61252-2
Jan 1996, Polity
104 pages
Description
This is the third in a series of personal records in hyper-reality from France's provocative philosopher of postmodernity,
"Sharp, sombre, brilliant, explosive, these fragments rarely fail to find their targets: the basic supposition of the superiority and triumphant progress of our technological rationality - and our 'current forms of despair'."
Mike Gane, Loughborough University
* Baudrillard is one of the most celebrated and controversial of contemporary social thinkers. * Baudrillard is France's leading philosopher of postmodernity. * This is an idiosyncratic, outrageous and brilliantly original book, which should sell as well as his two previous highly successful books - America and Cool Memories .