Cool Memories V: 2000 - 2004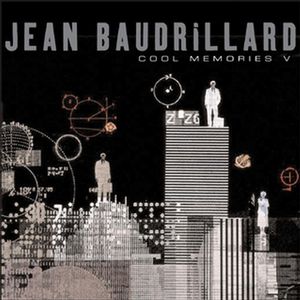 Cool Memories V: 2000 - 2004
ISBN: 978-0-745-63660-3 August 2006 Polity 132 Pages
Description
Prophet of the apocalypse, hysterical lyric poet, obsessive recounter of the desolation of the postmodern scene and currently the hottest property on the New York intellectual circuit.
The Guardian

A sharp-shooting lone-ranger from the post-Marxist left.
New York Times

The most important French thinker of the past twenty years.
J. G. Ballard


"Theory is never so fine as when it takes the form of a fiction or a fable," writes Baudrillard in Cool Memories V – the latest in a series of aphoristic journals that covers the period 2000-2004. During these years Baudrillard re-emerged strongly in the international arena with his trenchant and controversial essay Spirit of Terrorism, developed his work as a photographer and developed cancer.
As his attack on the inanities of "hyperreality" has grown more radical, Baudrillard has come to display an ever more marked penchant for the aphoristic style he has so long admired in such writers as Canetti, Lichtenberg and Nietzsche. "'Aphorizein'", he writes, "from which we get the word 'aphorism', means to retreat to such a distance that a horizon of thought is formed which never again closes on itself. " Cool Memories are carnets, notebooks, but these are notes for keeping the horizon of thought open within a daunting sphere of ideas that is no less than "a jungle, a nature red in tooth and claw. " "Mentally and affectively," he writes, "we have remained hunters. At every moment, in thought and writing, there is a prey and a predator. And survival is a miracle. "

Jean Baudrillard was born in Reims in 1929 and now lives in Paris. From 1966 to1987 he taught sociology at the University of Paris X (Nanterre). Among his works translated into English are Simulations and Simulacra, Fatal Strategies, Seduction, America, Cool Memories I- IV, The Illusion of the End and The Spirit of Terrorism
"Prophet of the apocalypse, hysterical lyric poet, obsessive recounter of the desolation of the postmodern scene..."
The Guardian

"A sharp-shooting lone-ranger from the post-Marxist left."

New York Times

"An international, intellectual superstar."

Salon.com


Jean Baudrillard is widely recognized as one of the most important and provocative writers of our age.

In this new, eagerly awaited next volume in his series of aphorisms, fragments and reflections, Baudrillard takes in his sweep such disparate subjects as death and television, Silicon thought and film, sex and the philosophical signifiance of zero.

Essential for readers concerned with the debates about postmodernism, hyper-realism and the current state of theory in the social sciences and humanity.

Willl have immediate take-up from fans of Baudrillard's work.