Cooley's Anemia: Eighth Symposium, Volume 1054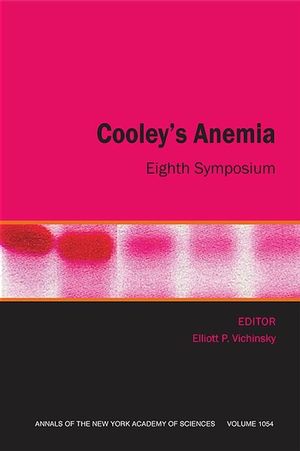 Cooley's Anemia: Eighth Symposium, Volume 1054
ISBN: 978-1-573-31581-4 November 2005 Wiley-Blackwell 528 Pages
Download Product Flyer
Download Product Flyer
Download Product Flyer is to download PDF in new tab. This is a dummy description. Download Product Flyer is to download PDF in new tab. This is a dummy description. Download Product Flyer is to download PDF in new tab. This is a dummy description. Download Product Flyer is to download PDF in new tab. This is a dummy description.
Description
Cooley's anemia, or thalassemia major, is a blood disorder characterized by a marked increase in F hemoglobin and a decrease in the production of certain oxygen-carrying proteins in red blood cells.
Thalassemia major is the most severe form of the chronic familial anemias that result from the premature destruction of red blood cells and is inherited as an autosomal recessive trait. In the years since the Seventh Cooley's Anemia Symposium, held in 1997, major advances have taken place in the understanding and treatment of the disease.

The molecular mechanisms responsible for the switch from fetal hemoglobin to adult hemoglobin production have been further clarified, while new drugs to enhance the production of fetal hemoglobin and relieve the anemia of thalassemia have been introduced and studied. Understanding of the relationship between molecular genotype and clinical phenotype has been advanced, and the techniques for molecular diagnosis, including prenatal diagnosis, have been vastly improved. Most importantly, there have been dramatic improvements in the treatment and prevention of complications of thalassemia. As a result, patients are now living longer, albeit with more disability.

Problems such as osteoporosis, heart failure, growth hormone deficiency, pulmonary hypertension, and infertility can now be detected early and treated. This volume not only focuses on the advances over the last six or seven years, but also illuminates many unsolved but critically important issues in the understanding and treatment of thalassemia, thus offering the scientific, clinical, care-giving, and patient communities the most up-to-date exchange on the current and future perspectives of the disease.

NOTE: Annals volumes are available for sale as individual books or as a journal. For information on institutional journal subscriptions, please visit www.blackwellpublishing.com/nyas.
ACADEMY MEMBERS: Please contact the New York Academy of Sciences directly to place your order (www.nyas.org). Members of the New York Academy of Science receive full-text access to the Annals online and discounts on print volumes. Please visit http://www.nyas.org/MemberCenter/Join.aspx for more information about becoming a member.
Table of contents
Preface
(
Elliott P. Vichinsky).
Thalassemia: The Continued Challenge (David G. Nathan).
Keynote Address: The Challenge of Thalassemia for the Developing Countries (David J. Weatherall).
Part I: The Natural History of Thalassemia Worldwide.
1. Changing Patterns of Thalassemia Worldwide (Elliott P. Vichinsky).
2. -Thalassemia: Hb H Disease and Hb Barts Hydrops Fetalis (David H.K. Chui).
3. Hemoglobin E-ß-Thalassemia: Progress Report from the International Study Group (Anuja Premawardhena, Shanthimala De Silver, Mahinda Arambepola, Nancy F. Olivieri, Elliott P. Vichinsky, Laura Merson, Giulia Muraco, Angela Allen, Christopher Fisher, Timothy Peto, and David J. Weatherall).
4. Survival and Complications in Thalassemia (C Borgna-Pignatti, M D Cappellini, P De Stefano, G C Del Vecchio, G L Forni, M R Gamberini, R Ghilardi, R Origa, A Piga, M A Romeo, H Zhao, and A Cnaan).
Part II: Gene Regulation and Therapy.
5. Role of Intergenic Human --Globin Sequences in Human Hemoglobin Switching and Reactivation of Fetal Hemoglobin in Adult Erythroid Cells (Arthur Bank, David O'neill, Rocio Lopez, Dianne Pulte, Maureen Ward, Simon Mantha, and Christine Richardson).
6. Isolation and Characterization of Hematopoietic Transcription Factor Complexes by in Vivo Biotinylation Tagging and Mass Spectrometry (Frank Grosveld, Patrick Rodriguez, Natalia Meier, Sanja Krpic, Farzin Pourfarzad, Petros Papadopoulos, Katarzyna Kolodziej, George P. Patrinos, Arnd Hostert, and John Strouboulis).
7. Germline Epimutation: A Basis for Epigenetic Disease in Humans (David I.K. Martin, Robyn Ward, and Catherine M. Suter).
8. Progress Toward the Genetic Treatment of the ß-Thalassemias (Michel Sadelain, Leszek Lisowski, Selda Samakoglu, Stefano Rivella, Chad May, and Isabelle Riviere).
9. Understanding -Globin Gene Regulation: Aiming to Improve the Management of Thalassemia (D R Higgs, D Garrick, E Anguita, M De Gobbi, J Hughes, M Muers, D Vernimmen, K Lower, M Law, A Argentaro, M A Deville, and R Gibbons).
10. Role of Alpha Hemoglobin-Stabilizing Protein in Normal Erythropoiesis and ß-Thalassemia (Mitchell J. Weiss, Suiping Zhou, Liang Feng, David A. Gell, Joel P. Mackay, Yigong Shi, and Andrew J. Gow).
Part III: Mechanisms of Cell Injury from Iron Overload in Thalassemia.
11. Role of Iron in Inducing Oxidative Stress in Thalassemia: Can It Be Prevented by Inhibition of Absorption and by Antioxidants (Eliezer A. Rachmilewitz, Orly Weizer-Stern, Konstantin Adamsky, Ninette Amariglio, Gideon Rechavi, Laura Breda, Stefano Rivella, and Z Ioav Cabantchik).
12. Objectives and Mechanism of Iron Chelation Therapy (Chaim Hershko, Gabriela Link, Abraham M. Konijn, and Z Ioav Cabantchik).
13. Ferritin as an Iron Concentrator and Chelator Target (Xiaofeng Liu and Elizabeth C. Theil).
Part IV: Iron Chelator: Development and Therapy.
14. The Design of Orally Active Iron Chelators (Robert C. Hider and Tao Zhou).
15. Recent Insights into Interactions of Deferoxamine with Cellular and Plasma Iron Pools: Implications for Clinical Use (J B Porter, R Rafique, S Srichairatanakool, B A Davis, F T Shah, T Hair, and P Evans).
16. Deferiprone: New Insight (A Piga, S Roggero, T Vinciguerra, L Sacchetti, V Gallo, and F Longo).
17. Combined Therapy with Deferoxamine and Deferiprone (Antonis Kattamis).
18. Evaluation of ICL670, a Once-Daily Oral Iron Chelator in a Phase III Clinical Trial of ß-Thalassemia Patients with Transfusional Iron Overload (Renzo Galanello).
Part V: New Advances in Stem Cell Transplantation.
19. Unrelated Bone Marrow Transplantation for ß-Thalassemia Patients: The Experience of the Italian Bone Marrow Transplant Group (Giorgio La Nasa, Franca Argiolu, Claudio Giardini, Andrea Pession, Franca Fagioli, Giovanni Caocci, Adriana Vacca, Piero De Stefano, Eugenia Piras, Antonio Ledda, Antonio Piroddi, Roberto Littera, Sonia Nesci, and Franco Locatelli).
20. Bone Marrow Transplantation in Adults with Thalassemia: Treatment and Long-Term Follow-Up (Javid Gaziev, Pietro Sodani, Paola Polchi, Marco Andreani, and Guido Lucarelli).
21. Sibling Donor Cord Blood Transplantation for Thalassemia Major: Experience of the Sibling Donor Cord Blood Program (Mark C. Walters, Lynn Quirolo, Elizabeth T. Trachtenberg, Sandie Edwards, Lisa Hale, Joanna Lee, Joi Morton-Wiley, Keith Quirolo, Shanda Robertson, Julie Saba, and Bert Lubin).
22. Stem Cell Transplantation with S-59 Photochemically Treated T-Cell Add-Backs to Establish Allochimerism in Murine Thalassemia (Frans A. Kuypers, Gordon Watson, Ezra Sage, Mark C. Walters, James Hamrick, and John E. Hearst).
23. Preimplantation Genetics: Improving Access to Stem Cell Therapy (Anver Kuliev, Svetlana Rechitsky, Ilan Tur-Kaspa, and Yury Verlinsky).
Part VI: New Therapy for Thalassemia.
24. Pharmacological Induction of Fetal Hemoglobin: Why Haven't We Been More Successful in Thalassemia (Hassana Fathallah, Millicent Sutton, and George F. Atweh).
25. Successful Correction of the Human Cooley's Anemia ß-Thalassemia Major Phenotype Using a Lentiviral Vector Flanked by the Chicken Hypersensitive Site 4 Chromatin Insulator (Punam Malik, Paritha I. Arumugam, Jing-Kuan Yee, and Geetha Puthenveetil).
26. Single and Combination Drug Therapy for Fetal Hemoglobin Augmentation in Hemoglobin E-ß0-Thalassemia: Considerations for Treatment (Sylvia T. Singer, Frans A. Kuypers, Nancy F. Olivieri, David J. Weatherall, Robert Mignacca, Thomas D. Coates, Sally Davies, Nancy Sweeters, Elliott P. Vichinsky The E/ß-Thalassemia Study Group).
27. Induction of Fetal Globin in ß-Thalassemia: Cellular Obstacles and Molecular Progress (Susan P. Perrine, Serguei A. Castaneda, Michael S. Boosalis, Gary L. White, Brandon M. Jones, and Regine Bohacek).
Part VII: Barriers to Optimal Survival in Thalassemia.
28. Caring for Adults with Thalassemia in a Pediatric World (Laurice M. Compagno).
29. Quality of Life in Thalassemia (P Telfer, G Constantinidou, P Andreou, S Christou, B Modell, and M Angastiniotis).
30. Thalassemia and Learning: Neurocognitive Functioning in Children (F Daniel Armstrong).
31. Treatment of Hepatitis C Virus Infection in Thalassemia (Ellen Butensky, Zahra Pakbaz, Drucilla Foote, Mark C. Walters, Elliott P. Vichinsky, and Paul Harmatz).
32. Fertility and Pregnancy in Thalassemia Major (Susan M. Tuck).
Part VIII: Emerging Issues in Thalassemia.
33. A Phase I/II Clinical Trial of ß-Globin Gene Therapy for ß-Thalassemia (Arthur Bank, Ronald Dorazio, and Philippe Leboulch).
34. Coagulation and Splenectomy: An Overview (M D Cappellini, E Grespi, E Cassinerio, D Bignamini, and G Fiorelli).
35. Transfusion Safety: Where Are We Today (Naomi L.C. Luban).
36. Pulmonary Hypertension in ß-Thalassemia (Athanasios Aessopos and Dimitrios Farmakis).
Part IX: Noninvasive Iron Measurements.
37. Monitoring Long-Term Efficacy of Iron Chelation Treatment with Biomagnetic Liver Susceptometry (Roland Fischer, Antonio Piga, Paul Harmatz, and Peter Nielsen).
38. Methods for Noninvasive Measurement of Tissue Iron in Cooley's Anemia (Sujit Sheth, Haiying Tang, Jens H. Jensen, Karen Altmann, Ashwin Prakash, Beth F. Printz, Alan J. Hordof, Christina L. Tosti, Andjela Azabagic, Srirama Swaminathan, Truman R. Brown, Nancy F. Olivieri, and Gary M. Brittenham).
39. T2* Magnetic Resonance and Myocardial Iron in Thalassemia (Dudley J. Pennell).
40. Measurement and Mapping of Liver Iron Concentrations Using Magnetic Resonance Imaging (Timothy G. St. Pierre, Paul R. Clark, and Wanida Chua-Anusorn).
41. Physiology and Pathophysiology of Iron Cardiomyopathy in Thalassemia (John C. Wood, Cathleen Enriquez, Nilesh Ghugre, Maya Otto-Duessel, Michelle Aguilar, Marvin D. Nelson, Rex Moats, and Thomas D. Coates).
42. Eighth Cooley's Anemia Symposium: Summation and Perspective (Arthur W. Nienhuis).
Part X: Short Papers.
Animal Models.
43. Rescued Mice with Hb E Transgene-Developed Red Cell Changes Similar to Human ß-Thalassemia/HbE Disease (Bundit Wannasuphaphol, Ruchaneekorn Kalpravidh, Kovit Pattanapanyasat, Panos Ioannau, Frans A. Kuypers, Suthat Fucharoen, and Pranee Winichagoon).
44. Exploring the Role of Hepcidin, an Antimicrobial and Iron Regulatory Peptide, in Increased Iron Absorption in ß-Thalassemia (Laura Breda, Sara Gardenghi, Ella Guy, Eliezer A. Rachmilewitz, Orly Weizer-Stern, Konstantin Adamsky, Ninette Amariglio, Gideon Rechavi, Patricia J. Giardina, Robert W. Grady, and Stefano Rivella).
45. Murine and Math Models for the Level of Stable Mixed Chimerism to Cure ß-Thalassemia by Nonmyeloablative Bone Marrow Transplantation (Carla Roberts, Leslie Kean, David Archer, Can Balkan, and Lewis L. Hsu).
Pathophysiology.
46. Non-Transferrin-Bound Iron during Blood Transfusion Cycles in ß-Thalassemia Major (Regine Grosse, Ulrike Lund, Vincenzo Caruso, Roland Fischer, Gritta E. Janka, Carmelo Magnano, Rainer Engelhardt, Matthias Dürken, and Peter Nielsen).
47. Genetic Analysis of Candidate Modifier Polymorphisms in Hb E-ß0-Thalassemia Patients (Orapan Sripichai, Johanna Whitacre, Thongperm Munkongdee, Chutima Kumkhaek, Wattanan Makarasara, Pranee Winichagoon, Ken Abel, Andreas Braun, and Suthat Fucharoen).
48. Measuring Chromosome Breaks in Patients with Thalassemia (Tal Offer, Amrita Bhagat, Ashutosh Lal, Wafa Atamna, Sylvia T. Singer, Elliott P. Vichinsky, Frans A. Kuypers, and Bruce N. Ames).
Clinical.
49. Longitudinal Study of Survival and Causes of Death in Patients with Thalassemia Major in Greece (Vassilis Ladis, George Chouliaras, Helen Berdousi, Emmanuel Kanavakis, and Christos Kattamis).
50. Osteoporosis in ß-Thalassemia: Clinical and Genetic Aspects (R Origa, E Fiumana, M R Gamberini, S Armari, M Mottes, A Sangalli, E Paglietti, R Galanello, and C Borgna-Pignatti).
51. Quality of Life in Patients with Thalassemia Intermedia Compared to Thalassemia Major (Zahra Pakbaz, Marsha Treadwell, Robert Yamashita, Keith Quirolo, Drucilla Foote, Laura Quill, Titi Singer, and Elliott P. Vichinsky).
52. Low Bone Mineral Density in Adolescents with ß-Thalassemia (Maria G. Vogiatzi, Karen A. Autio, Jeffrey E. Mait, Robert Schneider, Martin Lesser, and Patricia J. Giardina).
Pulmonary Hypertension and Cardiopulmonary Disease.
53. Does Heterozygous ß-Thalassemia Confer a Protection against Coronary Artery Disease (Stergios Tassiopoulos, Spyros Deftereos, Kostas Konstantopoulos, Dimitris Farmakis, Maria Tsironi, Michalis Kyriakidis, and Athanassios Aessopos).
54. Therapeutic Approaches to Pulmonary Hypertension in Hemoglobinopathies: Efficacy and Safety of Sildenafil in the Treatment of Severe Pulmonary Hypertension in Patients with Hemoglobinopathy (Giorgio Derchi and Gian Luca Forni).
55. Utility of Holter Electrocardiogram in Iron-Overloaded Hemoglobinopathies (Naveen Qureshi, Kishor Avasarala, Drucilla Foote, and Elliott P. Vichinsky).
56. Hemolysis-Associated Pulmonary Hypertension in Thalassemia (Claudia R. Morris, Frans A. Kuypers, Gregory J. Kato, Lisa Lavrisha, Sandra Larkin, Titi Singer, and Elliott P. Vichinsky).
Transfusion, Iron Overload, and Therapy.
57. A Simple Model to Assess and Improve Adherence to Iron Chelation Therapy with Deferoxamine in Patients with Thalassemia (Zahra Pakbaz, Roland Fischer, Marsha Treadwell, Robert Yamashita, Ellen B. Fung, Lisa Calvelli, Keith Quirolo, Drucilla Foote, Paul Harmatz, and Elliott P. Vichinsky).
58. Preclinical and Clinical Development of Deferitrin, a Novel, Orally Available Iron Chelator (Joanne M. Donovan, Melissa Plone, Rafif Dagher, Mark Bree, and Judith Marquis).
59. Allosensitization in Patients Receiving Multiple Blood Transfusions (V S Sakhalkar, K Roberts, L M Hawthorne, D M Mccaskill, D M Veillon, G C Caldito, and J D Cotelingam).
Prenatal Diagnosis and Treatment.
60. Outcomes of Preimplantation Genetic Diagnosis Therapy in Treatment of ß-Thalassemia: A Retrospective Analysis (Naveen Qureshi, Drucilla Foote, Mark C. Walters, Sylvia T. Singer, Keith Quirolo, and Elliott P. Vichinsky).
61. Separation of Normoblasts from Whole Blood by Ultracentrifugation on Arabino-Galactane Discontinuous Gradients: A Tool for Prenatal Diagnosis (Sergio Piomelli, Daniel Hirsch, and Lawrence Corash).
62. Prenatal Diagnosis of Hemoglobinopathies in Ontario, Canada (Raveen K. Basran, Margie Patterson, Lynda Walker, Lisa M. Nakamura, Barry Eng, David H.K. Chui, and John S. Waye).
Workshop Summaries.
63. Workshop Summaries: The Splenectomy Controversy (Sergio Piomelli).
64. Diagnosis and Management of Alpha Thalassemia Disorders (Fred Lorey).
65. Management of the "Difficult" Iron-Overloaded Patient (Marie Boorman Martin).
66. Genotypes and Phenotypes of Thalassemia: A Discussion (Suthat Fucharoen).
67. Nutrition: Role in Health and Therapy (Virginia A. Stallings).
Index of Contributors.