Cooperative Strategy: Competing Successfully Through Strategic Alliances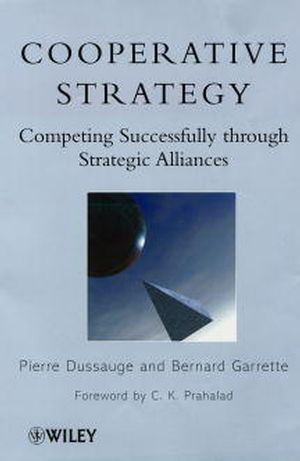 Cooperative Strategy: Competing Successfully Through Strategic Alliances
ISBN: 978-0-471-97492-5 July 1999 254 Pages
Download Product Flyer
Download Product Flyer
Download Product Flyer is to download PDF in new tab. This is a dummy description. Download Product Flyer is to download PDF in new tab. This is a dummy description. Download Product Flyer is to download PDF in new tab. This is a dummy description. Download Product Flyer is to download PDF in new tab. This is a dummy description.
Description
Cooperative Strategy Competing Successfully through Strategic Alliances Pierre Dussauge and Bernard Garrette HEC-School of Management, France In recent years, such corporate giants as Boeing, Toyota, Nestlé, Philips, United Airlines, IBM, and Intel have increasingly turned to alliances in order to develop new products and technologies, enter new markets, and globalize their activities. Indeed, no one firm, however dominant, can beat the competition entirely on its own. Unfortunately, managers have found collaboration to be a difficult, and sometimes dangerous, strategy; they have often over-estimated the benefits of alliances while overlooking their pitfalls which only materialize over time. C.K. Prahalad notes in the foreword that "managers need a robust framework for navigating through these uncharted waters" and that "this book provides an invaluable source of ideas and practical guidance in their search". As the dynamics of the business landscape change and alliances become an increasingly used competitive weapon, Cooperative Strategy will enable managers to plan, implement and make the best use of strategic alliances. "This book significantly advances the literature on strategic alliances. The case studies are fresh and the insights they provide are powerful. This book is a must read for both managers and academics interested in cooperative strategies." Nitin Nohria, Professor of Business Administration, Harvard Business School "This book provides an excellent guide to the new skills needed in an environment where more and more managers must learn to collaborate in order to enhance the competitive position of their company. No-one can become a global leader alone." John M. Stopford, Professor of International Business, London Business School "The framework developed by Pierre Dussauge and Bernard Garrette provides new and valuable insights on the strategic and managerial issues raised by alliances, in particular when these alliances bring together companies that compete in the same industries. Indeed, getting former competitors to collaborate efficiently is a difficult endeavour; this book offers managers guidelines that will make this challenge less daunting." Jean-Luc Lagardère, CEO, Matra-Hachette "This excellent book provides insightful clarity on the various types of alliances and successfully explores the issues, pitfalls and traps which ensnare the misinformed. The examples are rich and the perspective truly global. In particular, it disentangles the more creative forms of 'co-opetition' between rival firms, and lays out the longer term outcomes of alliances. It is pragmatic and practical, bristling with concrete suggestions on how to make alliances successful." Bruce Simpson, Principal, McKinsey&Company
Table of contents
What is a Strategic Alliance?

The Era of Strategic Alliances.

Interfirm Cooperation: Theoretical Contributions.

The Main Types of Alliance.

International Expansion Joint Ventures.

Vertical Partnerships.

Cross-Industry Agreements.

Shared-Supply Alliances.

Quasi-Concentration Alliances.

Complementary Alliances.

Conclusion: Anticipating the Evolutions and Outcomes of Strategic Alliances.

Bibliography.

Index.