Copepods in Aquaculture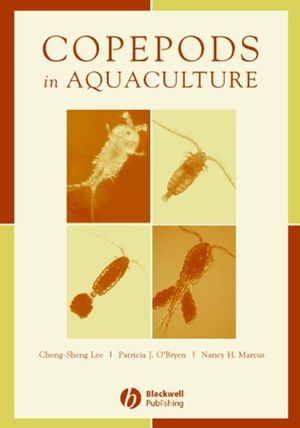 Copepods in Aquaculture
ISBN: 978-0-813-80066-0 May 2005 Wiley-Blackwell 269 Pages
Description
The importance of copepods in aquaculture has long been recognized, especially in the larval rearing of many marine fishes.


This timely publication provides a single source of information on copepod biology, culture methods and practical use in marine finfish hatcheries.

Originating out of a workshop held on copepods by the Oceanic Institute in Hawaii, this proceedings includes review articles and papers presented by leading international experts in copepod biology and aquaculture. It is a seminal work that integrates the most up-to-date information on selecting copepod species, effects of algal species on reproduction, ways to increase production, the nutritional value of copepods, behavioral characteristics of copepods, potential use of copepod nauplii and eggs, and their application to larval rearing of various marine finfish species.
Buy Both and Save 25%!
Original Price:$425.95
Purchased together:$319.46
save $106.49
Cannot be combined with any other offers.
Contributors.
Preface (Cheng-Sheng Lee).
1. Calanoid Copepods, Resting Eggs, and Aquaculture (Nancy H. Marcus).
2. The Potential to Mass-Culture Harpacticoid Copepods for Use as Food for Larval Fish (John W. Fleeger).
3. Symbiotic Copepods as Live Feed in Marine Finfish Rearing (Ju-shey Ho).
4. Birth-Control Effects of Diatoms on Copepod Reproduction: Implications for Aquaculture Studies (Adrianna Ianora).
5. Maximizing the Nutritional Values of Copepods in Aquaculture: Managed versus Balanced Nutrition (Gary S. Kleppel, Sarah E. Hazzard, and Carol A. Burkart).
6. Formulated Feeds for Harpacticoid Copepods: Implications for Population Growth and Fatty Acid Composition (Adelaide Rhodes and Leon Boyd).
7. A Brief Review of Studies on Mass Culture of Copepods Used for Fish Food in Japanese Mariculture and a Proposed Plan to Use High Biomass Natural Populations of Brackish-Water Copepods (Shin-ichi Uye).
8. Behavioral Characteristics of Copepods That Affect Their Suitability as Food for Larval Fishes (Edward J. Buskey).
9. Suitability of the Copepod Gladioferens imparipes for Intensive Cultivation for Aquaculture (Robert J. Rippingale and Michael F. Payne).
10. Development of Feeding Mechanics in Marine Fish Larvae and the Swimming Behavior of Zooplankton Prey: Implications for Rearing Marine Fishes (Ralph G. Turingan, Jessica L. Beck, Justin M. Krebs, and Jason D. Licamele).
11. Copepods as Live Prey: A Review of Factors That Influence the Feeding Success of Marine Fish Larvae (Edward J. Chesney).
12. Intensive and Extensive Production Techniques to Provide Copepod Nauplii for Feeding Larval Red Snapper Lutjanus campechanus (Ronald P. Phelps, Gede S. Sumiarsa, Emily E. Lipman, Hsiang-Pin Lan, Komarey Kao Moss, and Allen D. Davis).
13. Studies on the Use of Copepods in the Semi-intensive Seed Production of Grouper Epinephelus coioides (Joebert D. Toledo, Ma. Salvacion Golez, and Atsushi Ohno).
14. Culture of Copepods and Applications to Marine Finfish Larval Rearing in Taiwan (Huei-Meei Su, Shin-Hong Cheng, Tzyy-Ing Chen, and Mao-Sen Su).
15. Copepods as a Live Feed for Striped Trumpeter Latris lineata Larvae (David T. Morehead, Stephen C. Battaglene, Ephrime B. Metillo, Matthew P. Bransden, and Graeme A. Dunstan).
16. Intensive Cultivation of a Subtropical Paracalanid Copepod, Parvocalanus sp., as Prey for Small Marine Fish Larvae (Robin J. Shields, Tomonari Kotani, Augustin Molnar, Kimo Marion, Jon Kobashigawa, and Larren Tang).
17. Characterization of an Extensive Zooplankton Culture System Coupled with Intensive Larval Rearing of Red Snapper Lutjanus campechanus (John T. Ogle, Jason T. Lemus, L. Casey Nicholson, Donald N. Barnes, and Jeffrey M. Lotz).
18. Culture of Copepods and Applications to Marine Finfish Larval Rearing Workshop Discussion Summary (Patricia J. O'Bryen and Cheng-Sheng Lee).
Index.