Coping Skills Interventions for Children and Adolescents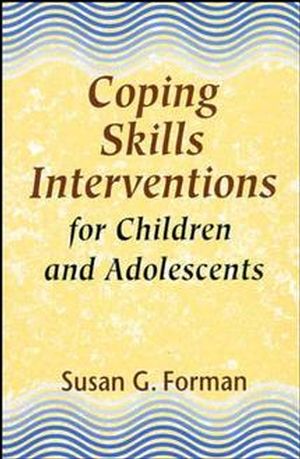 Coping Skills Interventions for Children and Adolescents
ISBN: 978-1-555-42493-0
Nov 1992, Jossey-Bass
216 pages
Description
A book in the Psychoeducational Intervention Series

Provides a wide range of coping skills interventions for helping children learn to handle everyday stress and deal better with academic, interpersonal, and physical demands both in and out of the classroom. Also includes specific techniques for promoting change and evaluating results.
Stress and Coping in Children and Adolescents.

Learning to Relax.

Facilitating Social Problem Solving.

Improving Social Interactions.

Acquiring Assertiveness Skills.

Using Self-Instruction Techniques.

Decreasing Irrational Beliefs.

Developing Stress-Reducing Thought Patterns.

Changing Beliefs About Success and Failure.

Promoting Behavioral Self-Control.

Prevention Applications.

Successful Implementation.
"Forman has assembled the most comprehensive literature on coping skills interventions for children and adolescents currently available...an extraordinarily valuable resource." --Thomas R. Kratochwill, professor, Department of Educational Psychology, University of Wisconsin, Madison