Core Concepts in Supramolecular Chemistry and Nanochemistry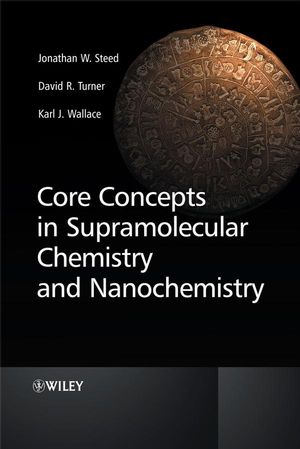 Core Concepts in Supramolecular Chemistry and Nanochemistry
ISBN: 978-0-470-85866-0
Jun 2007
320 pages
Description
Supramolecular chemistry and nanochemistry are two strongly interrelated cutting edge frontiers in research in the chemical sciences. The results of recent work in the area are now an increasing part of modern degree courses and hugely important to researchers.

Core Concepts in Supramolecular Chemistry and Nanochemistry clearly outlines the fundamentals that underlie supramolecular chemistry and nanochemistry and takes an umbrella view of the whole area. This concise textbook traces the fascinating modern practice of the chemistry of the non-covalent bond from its fundamental origins through to it expression in the emergence of nanochemistry.

Fusing synthetic materials and supramolecular chemistry with crystal engineering and the emerging principles of nanotechnology, the book is an ideal introduction to current chemical thought for researchers and a superb resource for students entering these exciting areas for the first time. The book builds from first principles rather than adopting a review style and includes key references to guide the reader through influential work. 
supplementary website featuring powerpoint slides of the figures in the book
further references in each chapter
builds from first principles rather than adopting a review style
includes chapter on nanochemistry clear diagrams to highlight basic principles
Buy Both and Save 25%!
Original Price:$355.00
Purchased together:$266.25
save $88.75
Cannot be combined with any other offers.
Preface.
About the authors.
1 Introduction.
1.1 What is supramolecular chemistry?
1.2 Selectivity.
1.3 Supramolecular interactions.
1.4 Supramolecular design.
References.
Suggested further reading.
2 Solution host–guest chemistry.
2.1 Introduction: guests in solution.
2.2 Macrocyclic versus acyclic hosts.
2.3 Cation binding.
2.4 Anion binding.
2.5 Metal-containing receptors.
2.6 Simultaneous cation and anion receptors.
2.7 Neutral-molecule binding.
2.8 Supramolecular catalysis and enzyme mimics.
References.
3 Self-assembly.
3.1 Introduction.
3.2 Biological self-assembly.
3.3 Ladders, polygons and helices .
3.4 Rotaxanes, catenanes and knots.
3.5 Self-assembling capsules.
References.
4 Solid-state supramolecular chemistry.
4.1 Introduction.
4.2 Zeolites.
4.3 Clathrates.
4.4 Clathrate hydrates.
4.5 Crystal engineering.
4.6 Coordination polymers.
References.
5 Nanochemistry.
5.1 Introduction.
5.2 Nanomanipulation.
5.3 Molecular devices.
5.4 Self-assembled monolayers (SAMs).
5.5 Soft lithography.
5.6 Nanoparticles.
5.7 Fullerenes and nanotubes.
5.8 Dendrimers.
5.9 Fibres, gels and polymers.
5.10 Nanobiology and biomimetic chemistry.
References.
Index.
"This not unreasonably priced book is far and away the best resource text yet for undergraduate course on supramolecular chemistry - and a good primer for anyone starting a research project in the area." (The Higher Education Academy Physical Sciences Centre, June 2008)
Discusses the highly topical area of nanotechnology
Brings together the many threads of supramolecular chemistry
Includes a supplementary website with downloadable slides of the illustrations and diagrams in the book
Provides key references at the beginning of each section and a comprehensive glossary of terms and definitions at the end of each chapter
First concise text aimed at students
Builds from first principles rather than 'review style'
Clear diagrams to highlight basic principles