Core Concepts of Organizational Behavior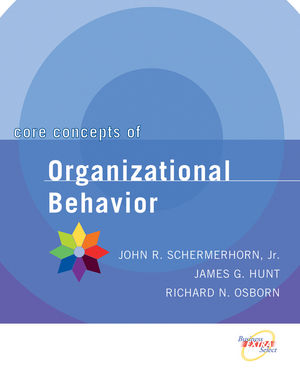 Core Concepts of Organizational Behavior
ISBN: 978-0-471-39182-1
Apr 2003
400 pages
Description
Core Concepts of Organizational Behavior, presents the basic foundations of OB through discussions of core theories, concepts, and issues. The clean design provides readers with open page layouts and a professional appearance. Each chapter opens with a set of study questions tied directly to major text headings; end-of-chapter summaries use these questions again to remind readers of core points. Effective Manager boxes in each chapter offer action guidelines for using the insights in real work situations.
The theme of this edition is The High Performance Organization. Ethics and social responsibility, workforce diversity, technology, entrepreneurship, and skill-building are some of the important topics emphasized. Schermerhorn's new edition is intended for the Organizational Behavior course taught at most 2-year and 4-year colleges.
Preface.
PART 1. ENVIRONMENT.
Organizational Behavior Today.
The High Performance Organization.
Global Dimensions of Organizational Behavior.
PART 2. INDIVIDUALS.
Diversity and Individual Differences.
Perception and Attribution.
Motivation and Reinforcement.
Human Resource Management Systems.
High Performance Job Designs.
PART 3. GROUPS.
The Nature of Groups.
Teamwork and High Performance Teams.
PART 4. ORGANIZATIONS.
Basic Attributes of Organizations.
Strategic Competency and Organizational Design.
High Performance Organizational Cultures.
PART 5. PROCESSES.
High Performance Leadership.
Power and Politics.
Information and Communication.
Decision Making.
Conflict and Negotiation.
Change, Innovation, and Stress.
Supplementary Module: Research Foundations of Organizational Behavior.
Notes.
Glossary.
Index.
Now even more brief and streamlined- a perfect foundation for students who need the basics without all the pedagogy.
The Revised Web Site for Core Concepts of Organizational Behavior is a rich source of materials for professors and students. The site will include student and instructor resources including an interactive student study guide, cases, interactive self-assessments, Web links and exercises, The Fast Company selection, Career Advancement Portfolio, PowerPoint files, supplement downloads, and more.
The core concepts for the OB course in a straightforward, affordable format.
A bullet-list summary is tied back to the chapter-opening study objectives
The Effective Manager offers practical tips and applications for any manager.