Core Concepts of Real Estate Principles and Practices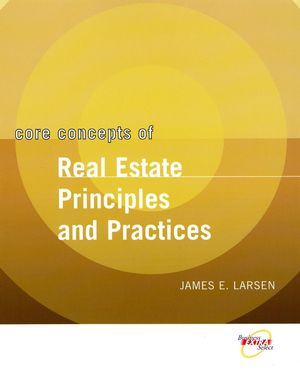 Core Concepts of Real Estate Principles and Practices
ISBN: 978-0-471-46545-4 June 2003 480 Pages
Description
Whether preparing for a career in real estate or seeking to better understand the real estate decisions that they may face in their personal lives, Core Concepts of Real Estate Principles and Practices provides students with a clear understanding of current theories and practices. Larsen balances practical information with academic rigor to provide a comprehensive introduction to the field, including those factors faced by every person contemplating the acquisition, leasing, financing, use, or disposition of real estate. Larsen introduces the real estate transaction in the first 3 chapters to get the student interested and then organizes the chapters around the steps in the real estate process, which is unique.
As part of the Core Concepts Series, Core Concepts of Real Estate Principles and Practices can be adopted with Business Extra Select (www.wiley.com/college/bxs), a simple, seamless, online custom publishing process that allows instructors to combine the best business textbook resources from Wiley with other world class content and resources, from sources such as INSEAD, Ivey and Harvard Business School cases, Fortune, The Economist, or The Wall Street Journal, and much, much more. This Series combines the quality and effectiveness of Wiley Business publications with the flexibility to enrich the course with cases, readings, applications and other content. A Core Concepts text can be bound under one cover with any Business Extra Select CoursePack to create a custom-published book.
Select from millions of journal articles, cases, readings from periodicals, newspapers, and other respected publication in the Business Extra Select databases,
Combine with Wiley supplemental print and media products,
Include your own materials, links or notes, or request copyright clearance for additional material.An editorially-selected CoursePack for Core Concepts of Real Estate Principles and Practices is available to be used as is, or can be modified to meet particular course needs.
Core Concepts of Real Estate Principles and Practices is priced at $40.00 Net. When built into a custom book combining the text with Business Extra Select content, the price of the book is $30.00 Net plus the prices of the CoursePack content, a saving of $10.00.
Table of contents
PART I. AN INTRODUCTION TO REAL ESTATE.
Chapter 1. Real Estate Markets.
Chapter 2. Real Estate Services.
Chapter 3. Home Ownership.
PART II. REAL ESTATE OWNERSHIP AND THE LAW   .
Chapter 4. Interests in Real Estate.
Chapter 5. Forms of Real Property Ownership.
Chapter 6. Limitations on Ownership.
Chapter 7. Income Taxes.
Chapter 8. Legal Descriptions.
PART III. REAL ESTATE TRANSACTIONS.
Chapter 9. Real Estate Agency and Brokerage.
Chapter 10. Real Estate Appraisal.
Chapter 11. Real Estate Contracts.
Chapter 12. Deeds.
Chapter 13. Preparation for the Real Estate Closing.
Chapter 14. Closing the Real Estate Transaction.
PART IV. REAL ESTATE FINANCING.
Chapter 15. Mortgages and Deeds of Trust.
Chapter 16. Financing Real Estate Transactions.
Chapter 17. Mortgage Calculations.
PART V. REAL ESTATE DEVELOPMENT AND INVESTMENT.
Chapter 18. Property Management and Leasing.
Chapter 19. Property Insurance.
Chapter 20. Property Development and Market Analysis.
Chapter 21. Investment Analysis.
Appendix.
Glossary.
Index.
Features
Decision Points. Highlighted Decision Points in each chapter encourage students to think more deeply about particular issues. The questions require students to exercise their own judgment and the information that precedes the Decision Point.
Ethical Issues. This is the first real estate text to explicitly incorporate ethics. Highlighted sections pose an ethical question for the students to consider and open up topics for class discussion.
Steps-in -the-process approach. Larsen organizes the chapters so students are introduced to information they are interested in right away: how buy, the RE transaction. This is unique and will get students motivated.
From the Wire. Each chapter begins with a high interest/high impact actual RE issue or newsworthy item?from the freshman at University of Arizona who runs the states largest real estate marketing Web site to Fannie Mae's Smart Commute program. These illustrate how the chapter topics relate to what is actually happening today in the world of real estate.
Doing Business sidebars. These are high interest business issues and examples that apply the real estate concepts being discussed. They may be technology oriented-showing how technology is impacting the RE business (automating e-mail contacts) or ethical issues-(be loyal first to your clients), or general in nature. Each Doing Business sidebar offers an inside look at the practical side of the real estate business.
Real Estate on the Web. These are end of chapter exercises and activities that ask students to explore the Web and familiarize themselves with the leading real estate sites.
Practitioner profiles. Each chapter has a profile of a genexer who has made a name for themselves in real estate. This is high interest in keeping with the "relevance" theme of the text. Studenst are interested in success stories of people their own age.
Book Web Site. The Web site features practice quizzes, supplemental material (e.g., Pre-licensing and Continuing Education Requirements for real estate licensees, detailed career information), and sample documents.