Core Principles of Meditation for Therapy: Improving the Outcomes for Psychotherapeutic Treatments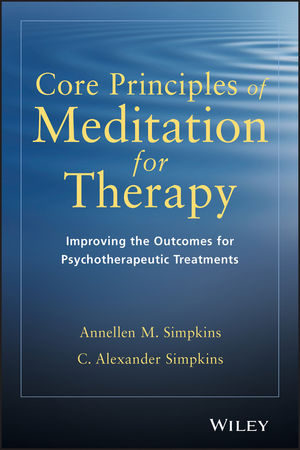 Core Principles of Meditation for Therapy: Improving the Outcomes for Psychotherapeutic Treatments
ISBN: 978-1-118-82915-8 June 2016 288 Pages
Description
Core Principles of Meditation for Therapy: Improving the Outcome of Psychotherapeutic Treatment provides the multi-modal strategies and tools therapists need to guide their clients' adaptations of meditation into their lives. Complete with text, audio, and video content, this package introduces a variety of meditation routines and explains how, when, and why each technique should be used to reach specific goals. The availability of audio and video, as well as print, allows the therapist to customize each presentation to the client and the presenting problem.
Meditation simultaneously engenders both relaxation and alertness, and regular practice can change brain function to permanently improve internal sensing. The three major meditation methods—focus (Yoga meditations and postures), open-focus (Mindfulness), and no-focus (clearing the mind Zen and Taoist flow)—are best suited to different kinds of problems. Core Principles of Meditation for Therapy explains them all, and details the most practical applications of each. This guide matches the meditation type to a therapeutic goal.
Consistent with the positive psychology movement, meditative practice puts people on a positive path and offers distinctive techniques to actualize change. This package's multi-sensory approach makes it adaptable to the needs of therapists and clients, supports their initiation, practice, and mastery of meditation for improved mental health. For clinicians seeking to integrate meditation and therapy, Core Principles of Meditation for Therapy is a complete guide to both theory and practice.
Introduction xi
Part I: Theoretical Foundations 1
1 Return to Emptiness 3
Core Principle 1: Learn from What Is and What Is Not.
2 The Changing Self 15
Core Principle 2: Attune to the Natural Flow of Change.
Part II: Neuroscience 27
3 The Inner Thread: Effects of All Forms of Meditation 29
Core Principle 3: Meditation Has a Dual Effect: Calm Alertness
4 Variations: Different Forms of Meditation 39
Core Principle 4: There Are Different Forms of Meditation. Pick the Suitable One for Your Client.
Part III: Tools of Meditation 49
5 Attention 51
Core Principle 5: Train Attention to Enhance Meditation and Improve Therapy Outcomes.
6 Sensory Awareness 63
Core Principle 6: Attune Your Senses to Enhance Self-Awareness.
7 Body Movement and the Mind–Body Link 77
Core Principle 7: The Mind and Body Are Linked. Meditative Movement of the Body Can Elicit a Meditative State of Mind.
Part IV: Meditation Instructions 109
8 Focus Meditations 111
Core Principle 8: Narrow Your Focus to Cultivate Stability, Regulation, Tranquility, and Self-Control.
9 Open-Focus Meditation: Mindfulness 119
Core Principle 9: Be Mindful in the Present Moment to Attune to Thoughts, Feelings, and Behaviors.
10 No-Focus Meditation: Emptiness and Letting Be 133
Core Principle 10: Clear Your Mind. Invite the Natural Free Flow of Potential to Emerge.
Part V: Applications 143
11 Cultivating Happiness through Compassion and Gratitude 145
Core Principle 11: Nurture Happiness by Practicing Compassion and Gratitude.
12 Integrating Meditation into Therapy 159
Core Principle 12: Integrate Meditation into Most Forms of Therapy as an Adjunct or Stand-alone Method.
13 Meditations for Stress 167
Core Principle 13: Meditation Alters the Physical, Emotional, and Cognitive Components of Stress. Practice It to Calm, Manage, and Relieve Stress.
14 Meditative Regulation of Emotions 173
Core Principle 14: The Paradox of Meditative Regulation Is That You Gain Control by Letting Go.
15 Meditations for Depression 181
Core Principle 15: Meditation Can Help to Activate a Depressed Nervous System, Transforming Negative Rumination into Broader Awareness and Deeper Compassion.
16 Meditations for Bipolar Disorder 191
Core Principle 16: Use Meditation along with Medication to Rebalance the Nervous System, Strengthen Emotional Regulation, and Improve Relationships in Clients with Bipolar Disorder.
17 Meditations for Anxiety 201
Core Principle 17: Counter the Negative Anticipation toward the Future Found in Anxiety Disorders. Center the Client in the Present Moment.
18 Meditations for Trauma 211
Core Principle 18: Train the Mind and Brain after Trauma to Elicit Calm, Build Resilience, and Rediscover Well-being.
19 Meditations for Substance Abuse 221
Core Principle 19: Rewire the Reward Pathway of the Brain to Go beyond Pleasure and Pain and Find Meaning in Life without Drugs.
20 Conclusions 229
Core Principle 20: Sculpt Your Own Life through Regular Meditation as You Discover that Enlightened Well-being Is Here and Now.
References 231
About the Authors 241
Author Index 243
Subject Index 247
Audio and video content is carefully synchronized with the text to enrich and deepen understanding and allow for seamless integration of meditation into practice.
Provides clinicians with neuroscientific and clinical evidence supporting the use of meditation to improve client's mental health.
Therapists learn what to do, but also understand how, when, and why to use a particular technique
Consistent with the positive psychology movement, meditative practice puts people on a positive path and offers distinctive techniques to actualize change