Core Science Stage 4 NSW Australian Curriculum Edition & eBookPLUS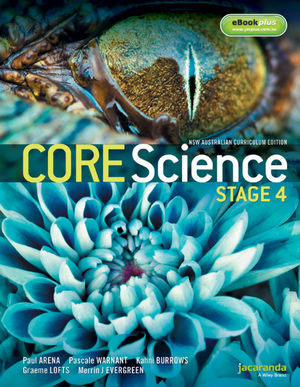 Core Science Stage 4 NSW Australian Curriculum Edition & eBookPLUS
ISBN: 978-1-118-60641-4
Dec 2013, Jacaranda
616 pages
Product not available for purchase
Description
Core Science Stage 4 for the Australian Curriculum covers all Stage 4 topics in one textbook, with an in-depth coverage of essential and additional syllabus content.


Core Science Stage 4 for the Australian Curriculum features:
• New topic units provide an engaging and detailed coverage of science concepts
• Over 150 Investigations provided in context offer a complete practical program for Stage 4 students
• Activities questions cover a full range of lower to higher order activities, including eBookPLUS interactivities and video eLessons
• Focus activities for every chapter which provide an open ended activity which enables students to demonstrate the understanding they have developed during chapter.
• Dedicated chapters titled 'Investigating' and 'Student Research Project and Skills' support the syllabus skills outcomes and SRP requirements
• New Science as a human endeavour units in each chapter provide high-interest content explicitly linking particular areas of science with the Australian curriculum strand
• Looking Back sections include Test Yourself multiple choice and extended response questions
• Study Checklist outlines the key content in each chapter
• ICT summary outlines the eBookPLUS content for each chapter
Students using Core Science Stage 4 for the Australian Curriculum can access eBookPLUS, an electronic version of the textbook and a complementary set of digital resources. The eBookPLUS features a store of interactivities (including games) and video eLessons, all specifically created for Australian students. These flexible and engaging ICT activities are available online at the JacarandaPLUS website www.jacplus.com.au.

Features of the eBookPLUS include:
• Individual pathways revision documents titled 'Assessment as learning'
• Additional Focus activities for every chapter which provide an open ended activity which enables students to demonstrate the understanding they have developed during the chapter
• projectsPLUS - ICT-based projects that use an innovative research management system featuring video introductions, templates for students to build their projects and weblinks to resources
1. Investigating
2. Cells — the building blocks of life
3. States of matter
4. Classifi cation
5. Separating mixtures
6. The solar system
7. Forces in action
8. Body systems
9. The structure and properties of matter
10. The changing Earth
11. Energy
12. Chemical change
13. From one to many
14. Earth's precious resources
15. Ecology
16. Health science
17. Student research project and skills