Cornel West: A Critical Reader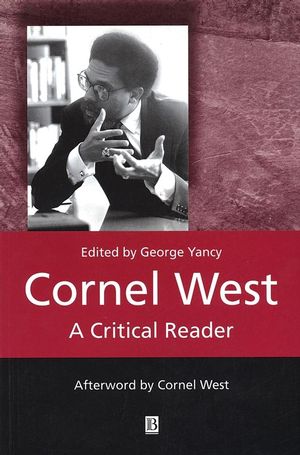 Cornel West: A Critical Reader
ISBN: 978-0-631-22292-7 August 2001 Wiley-Blackwell 398 Pages
Download Product Flyer
Download Product Flyer
Download Product Flyer is to download PDF in new tab. This is a dummy description. Download Product Flyer is to download PDF in new tab. This is a dummy description. Download Product Flyer is to download PDF in new tab. This is a dummy description. Download Product Flyer is to download PDF in new tab. This is a dummy description.
Description
This comprehensive text offers a systematic and thematic approach to West's philosophical work. It moves the reader through his distinctive form of prophetic pragmatism, his historicist and improvisational philosophy of religion, his socialist democratic and truncated Marxist political philosophy, and his reflections on a range of cultural issues.
Table of contents
Acknowledgements.
Notes on Contributors.
Cornel West: The Vanguard of Existential and Democratic Hope: George Yancy.
Part I: Pragmatism:.
1. Pragmatism Resurgent: A Reading of The American Evasion of Philosophy: Hilary W. Putnam.
2.The Unacknowledged Fourth Tradition: An Essay on Nihilism, Decadence, and the Black Intellectual Tradition in the Existential Pragmatic Thought of Cornel West: Lewis R. Gordon.
3. Cornel West on Prophesy, Pragmatism, and Philosophy: A Critical Evaluation of Prophetic Pragmatism: Clevis Headley.
4. Which Pragmatism? Whose America?: Eduardo Mendieta.
Part II: Philosophy of Religion:.
5. "Let Suffering Speak": The Vocation of a Black Intellectual: James H. Cone.
6. Religion and the Mirror of God: Historicism, Truth and Religious Pluralism: George Yancy.
7. Is Cornel West Also Among the Theologians? The Shadow of the Divine in the Religious Thought of Cornel West: Victor Anderson.
8. Cornel West's Improvisational Philosophy of Religion : M. Shawn Copeland.
9. Existential Aptness and Epistemological Correctness: Cornel West and the Identity of the "Lord": Josiah Ulysses Young, III.
Part III: Political Philosophy:.
10. Cornel West on Gender and Family: Some Admiring and Critical Comments: Iris M. Young.
11. Prophetic Pragmatism as Political Philosophy : Charles W. Mills.
12. "Radical Historicism," Antiphilosophy, and Marxism: John P. Pittman.
13. Cornel West and Afro-Nihilism: A Reconsideration: Floyd W. Hayes, III.
14. On Cornel West on W. E. B. Du Bois: Lucius T. Outlaw, Jr.
15. The Political Philosophy and Humanism of Cornel West: Howard McGary, Jr.
Part IV: Cultural Studies:.
16. "It's Dark and Hell is Hot": Cornel West, the Crisis of African-American Intellectuals and the Cultural Politics of Race: Peniel E. Joseph.
17. Reading Cornel West as a Humanistic Scholar: Rhetoric and Practice: Clarence Shole Johnson.
18. Cornel West's Representations of the Intellectual: But Some of Us Are Brave?: Nada Elia.
Afterword: Cornel West.
Select Bibliography of Cornel West's Works.
Index.
Reviews
"There could be no more appropriate response to West's intellectual breadth than to assemble intellectuals and activists with diverse scholarly backgrounds and to ask them to engage critically with the full range of his work. The result is a book that can help us to assess West's achievement, while deepening our understanding of many of the questions raised in his extraordinary oeuvre. It also bears out the double-meaning in this book's title: for West is, indeed, one of the great critical readers of the American progressive tradition."
Kwame Anthony Appiah, Harvard University
<!--end-->
"Many of the contributions to this volume are written by members of a younger generation of scholars who have profited from West's pathbreaking writings. Their essays bring into sharp focus this question: is there anything that philosophers, theologians, or other intellectuals know, or anything they can do, that might help the black underclass in the US escape from what West calls 'a life of horrifying meaninglessness, hopelessness, and (most important) lovelessness." Richard Rorty, Stanford University

"Every American intellectual ought to spend some time thinking about West, and every large library should give readers a chance by putting this book on their shelves". Library Journal

"Cornel West: a Critical Reader is worthwhile not only because it honors West, who is indeed worthy of our recognition, but also because it continues, and therefore lends credibility and possibility to, pragmatic philosophical discourse aimed at eliminating oppression through the expansion of democracy and improving our facility in the art of living." Ethics, Vol. 113, 2003
Features


Critically and respectfully examines West's influential ideas in a single and readily accessible volume.


Offers a wide range of perspectives on West's work, including existential and phenomenological philosophy, social and political philosophy, history, womanist and feminist theory, and theology and philosophy of religion.


Serves as the first critical anthology of West's work.


Includes an afterword by Cornel West himself.