Corporate Aftershock: The Public Policy Lessons from the Collapse of Enron and Other Major Corporations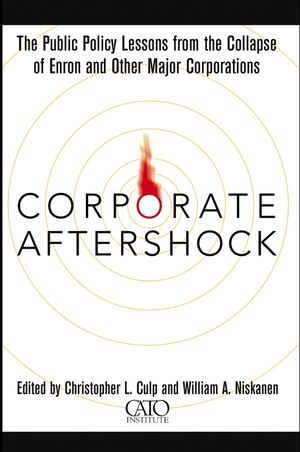 Corporate Aftershock: The Public Policy Lessons from the Collapse of Enron and Other Major Corporations
ISBN: 978-0-471-47414-2
Jun 2003
352 pages
Description
The first book to address public policy in the light of recent corporate debacles
Corporate Aftershock is a reasoned, informed response to the numerous proposals to restrict derivatives, structured financing activities, and shareholder protection principles and practices following the failure of Enron and other corporations. Readers get a cogent analysis of the public policy world after recent corporate debacles. Corporate Aftershock provides a detailed background of the markets, players, regulations, and institutional environment surrounding these failures.
Christopher L. Culp, PhD (Chicago, IL), is a Principal at CP Risk Management LLC. William A. Niskanen, PhD (Washington, DC), is Chairman of the Cato Institute.
About the Editors.
About the Contributors.
Preface (Christopher L. Culp).
Acknowledgments.
Introduction (William A. Niskanen).
Editors' Note.
PART I. CORPORATE INNOVATION AND GOVERNANCE.
1. Empire of the Sun: A Neo-Austrian Economic Interpretation of Enron's Energy Business (Christopher L. Culp and Steve H. Hanke).
2. Corporate Accounting after Enron: Is the Cure Worse Than the Disease? (Richard Bassett and Mark Storrie).
3. Corporate Governance: Pre-Enron, Post-Enron (Alton B. Harris and Andrea S. Kramer).
PART II. ENERGY AND DERIVATIVES MARKETS AFTER ENRON.
4. Wholesale Electricity Markets and Products after Enron (Andrea M. P. Neves).
5. Regulation of Wholesale Electricity Trading after Enron (Andrea S. Kramer, et al.).
6. Online Trading and Clearing after Enron (John Herron).
7. Do Swaps Need More Regulation? (David Mengle).
PART III. STRUCTURED FINANCE AFTER ENRON.
8. An Introduction to the Business of Structured Finance (Barbara T. Kavanagh).
9. Structured Commodity Finance after Enron: Uses and Abuse of Prepaid Forwards and Swaps (Christopher L. Culp and Barbara T. Kavanagh).
10. Accounting and Disclosure Issues in Structured Finance (Keith A. Bockus, et al.).
PART IV. CREDIT RISK MITIGATION AFTER ENRON.
11. Credit Risk Management Lessons from Enron (Christopher L. Culp).
12. Credit Derivatives Post-Enron (Andrea S. Kramer and Alton B. Harris).
13. The Market for Complex Credit Risk (Paul Palmer).
PART V. REGULATING CORPORATE INNOVATION AFTER ENRON.
Chapter 14. Cowboys versus Cattle Thieves: The Role of Innovative Institutions in Managing Risks along the Frontier (Fred L. Smith, Jr.).
References.
Index.