Corporate Audit Department Manual with Download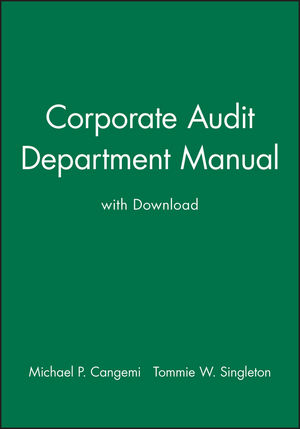 Corporate Audit Department Manual with Download
ISBN: 978-0-471-28120-7
Apr 2003
Description
No longer is the internal audit function being outsourced. Corporations now realize that their auditors play a key role in internal control. Audit directors are finding that their manuals are several years old or nonexistent, and many need help in updating or creating them.

The Corporate Audit Department Manual w/Download provides step-by-step guidance on how to set up an internal audit department and shows how the department should be run. It provides useful information that will assist auditors in their efforts to improve their corporation's performance. This downloadable and customizable manual provides a blueprint for the processes and procedures of running an effective internal audit department. The authors have written much of the text as a guide that has all the tools that an internal audit department needs to create its own dynamic, comprehensive procedures manual, including:
Each page of the Word format manual has a heading consists of a generic company name, title of the manual, section number, revision number, and date of the revision
Quality assurance and marketing tips
Standards for information systems auditing
A new section on the internal control system, which includes models, tools, and techniques
Unique matrices that describe each component of the audit function in detail, from administration to performance to reporting
By following the steps outlined in this manual, end users can ensure that they are following the guidelines for internal control that the Foreign Corrupt Practices Act as well as COSO (Committee of Sponsoring Organizations) call for. In this shifting accounting landscape, the effective auditing procedures provided by this manual are essential to appropriate internal control.