Corporate Blogging For Dummies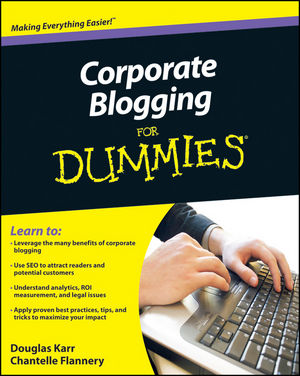 Corporate Blogging For Dummies
ISBN: 978-0-470-90147-2
Jul 2010
384 pages
Product not available for purchase
Description
Establish a successful corporate blog to reach your customers
Corporate blogs require careful planning and attention to legal and corporate policies in order for them to be productive and effective. This fun, friendly, and practical guide walks you through using blogging as a first line of communication to customers and explains how to protect your company and employees through privacy, disclosure, and moderation policies.
Blogging guru Douglas Karr demonstrates how blogs are an ideal way to offer a conversational and approachable relationship with customers. You'll discover how to prepare, execute, establish, and promote a corporate blogging strategy so that you can reap the rewards that corporate blogging offers.
Shares best practices of corporate blogging, including tricks of the trade, what works, and traps to avoid
Walks you through preparing a corporate blog, establishing a strategy, promoting that blog, and measuring its success
Reviews the legalities involved with a corporate blog, such as disclaimers, terms of service, comment policies, libel and defamation, and more
Features examples of successful blogging programs throughout the book
Corporate Blogging For Dummies shows you how to establish a corporate blog in a safe, friendly, and successful manner.
Introduction.
Part I: Getting Started with Corporate Blogging.
Chapter 1: Corporate Blogging from Soup to Nuts.
Chapter 2: Laying the Foundation for Blogging.
Chapter 3: Deciding On Your Blogging Goals.
Part II: Mapping Out and Implementing Your Corporate Blog.
Chapter 4: Using a Domain That Matters for Your Corporate Blog.
Chapter 5: Choosing a Blogging Platform.
Chapter 6: Regarding Time, Resources, and Content.
Chapter 7: Working with Your Blogging Team.
Part III: Engaging Your Search Engine Optimization Strategy.
Chapter 8: Making the Most of Search Engines.
Chapter 9: Writing Content That Drives Search Engine Traffic.
Part IV: Expanding Blog Posts and Promoting Content.
Chapter 10: How to Blog without Writing.
Chapter 11: Marketing and Promoting Your Blog.
Part V: Measuring Success.
Chapter 12: Imagining Your Blog as a Sales Funnel.
Chapter 13: Directing Your Readers through Calls-to-Action.
Chapter 14: Leading Your Readers through Landing Pages.
Chapter 15: Measuring Success with Analytics.
Part VI: The Part of Tens.
Chapter 16: Ten Ways to Promote Your Blog.
Chapter 17: Ten Ways to Grow Your Audience.
Chapter 18: Ten Ways to Reignite Old Content.
Index.
""Great chunks of information about blogging, social media, and search engine optimization that will help anyone with a blog (not just those in corporations)."" (Liz Strauss, author of
Successful Blog
,
www.successful-blog.com
)
""If you want to be an effective corporate blogger, let's face it...you really need this book"" (Brian Clark, founder, Copyblogger, (tweeted on August 12th - http://twitter.com/copyblogger/status/20944026463)