Corporate Boards: New Strategies for Adding Value at the Top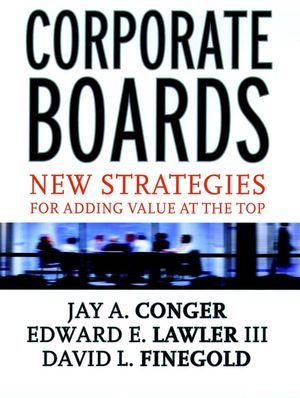 Corporate Boards: New Strategies for Adding Value at the Top
ISBN: 978-0-787-95620-2
Apr 2001, Jossey-Bass
240 pages
Description
This outstanding work reveals how boards governing 21st-century organizations can change their practices and align their principles to successfully govern the organization of the new economy. The authors propose that judging a board's effectiveness should be done not in a "shareholder" context but in a "stakeholder" context instead. They couch their reforms in a framework that focuses on what determines effective governance behavior: information, knowledge, power, and rewards.They argue it is behavior, not practices that count, and look at boards from a group and an organizational perspective.
WHAT SHOULD BOARDS DO?

Critical Boards Activities.

Attributes of High Performance Boards.

PRINCIPLES AND PRACTICES FOR EFFECTIVE BOARDS.

Board Membership.

Board Leadership.

Information for High Performance Boards.

Evaluating the CEO.

Evaluating and Rewarding the Board?: Performance.

BOARDS IN THE FUTURE.

Governing in the Age of the Internet.

To Whom Are Boards Accountable?

Redesigning the Board: New Governance Forms.

Conclusion.

Appendix: Research Background.
"The most comprehensive analysis of board practices available. Research results and real world examples that will help CEOs and directors build the corporate boards of the future. Effectively combines thoughtful analysis with action steps that make governance practices come alive." --Rich Teerlink, chairman and CEO (retired), Harley Davidson

"This lastest book by the team of Conger, Lawler, and Finegold-which draws from Korn/Ferry's ongoing research on the policies and practices of corporate America's largest boards-is a comprehensive, thoughtful examination of the challenges faced by boards today, and what they can do to become more effective in meeting the needs of their diverse stakeholders. This is a valuable tool for anyone who now serves on a board-or is interested in learning more about the responsibilities inherent in assuming a directorship role." --Richard M. Ferry, chair, Korn/Ferry International

"A defining piece of work in the emerging field of corporate governance. Based on solid and comprehensive research, the authors have provided a balanced and thoughtful road map for enhancing board effectiveness. Every CEO in the country should read this book and keep it on his or her desk." --David A. Nadler, chairman, Mercer Delta Consulting

"The single best, data-based book on corporate goverance. Should be required reading for every senior executive and board member." --Warren Bennis, Distinguished Professor of Business Administration University, of Southern California, and author of Managing the Dream