Corporate Finance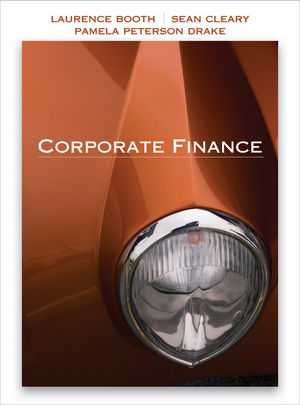 Corporate Finance
ISBN: 978-1-118-54993-3 December 2012 832 Pages
Description
Corporate Finance by Booth, Cleary, & Drake is designed for a corporate finance course that focuses on decision making for a business enterprise.
Authors Booth, Cleary, and Drake introduce students to the fundamental concepts in corporate finance through a step-by-step approach to working problems using extensive spreadsheet and calculator assistance. The authors also provide in-depth coverage of challenging topics in finance including derivatives and leasing. Given world news on topics like the financial crisis, the need for in depth knowledge for tomorrow's leaders in finance, and the importance of ethical decision making in financial management, Corporate Finance is tailored for tomorrow's professional.
As part of a robust digital and print program, Corporate Finance includes WileyPLUS, a student-centered learning and assessment environment where students work through practice questions and assigned end-of-chapter problems, video assessments, and interactive animations alongside an embedded e-Textbook.
WileyPLUS sold separately from text.
Chapter 1            An Introduction to Finance
Chapter 2            Financial Management
Chapter 3            Financial Statements
Chapter 4            Financial Statement Analysis
Chapter 5            The Time Value of Money
Chapter 6            Debt Valuation and Interest Rates
Chapter 7            Equity Valuation
Chapter 8            Risk, Return, and Portfolio Theory
Chapter 9            Asset Pricing
Chapter 10          Capital Budgeting Decisions
Chapter 11          Capital Budgeting: Cash Flows and Risk
Chapter 12          Debt Instruments
Chapter 13          Equity and Hybrid Instruments
Chapter 14          Cost of Capital
Chapter 15          Capital Structure Decisions
Chapter 16          Dividend Policy
Chapter 17          Financial Planning, Forecasting, and Risk Management
Chapter 18          Derivatives
Chapter 19          Working Capital Management
Chapter 20          Leasing
Chapter 21          Mergers and Acquisitions
Chapter 22          International Finance (ONLINE ONLY)
Sets the stage for the environment in which decisions are made, introduces the reader to financial mathematics, and builds upon the foundation with applications involving long-term investment and financing decisions.
Logical framework highlights three distinct legs of finance: accounting, economics, and mathematics.
Chapter learning outcomes correspond directly to each section in the chapter and to specific end-of-chapter questions and problems.
Special topic boxes provide context, examples, and illustrations of the material for special subjects like ethics, the global business community, and real-world companies.
Toolkit examples like "Using a Spreadsheet to Solve for…" and "Calculator Tools" support students using spreadsheets and calculators to problem solve.
Spreadsheet-based problems and solutions give the student an opportunity to apply the concepts, tools or techniques to more complex problems within the spreadsheet environment.
Cases in each chapter provide in-depth analyses and application of the material.