Corporate Governance Best Practices: Strategies for Public, Private, and Not-for-Profit Organizations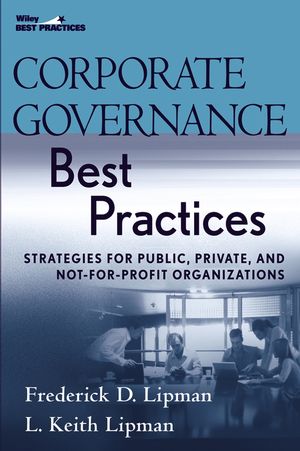 Corporate Governance Best Practices: Strategies for Public, Private, and Not-for-Profit Organizations
ISBN: 978-1-119-19719-5
Aug 2015
288 pages
Description
Praise for Corporate Governance Best Practices

"A thorough and thoughtful guidebook on the governance lay of the land."
-Professor Charles M. Elson, Woolard Chair in Corporate Governance and Director of Weinberg Center for Corporate Governance, University of Delaware

"Frederick Lipman provides a comprehensive approach to best corporate governance practices for all organizations, which is current, thoughtful, and practical. Directors and corporate governance personnel of public, private, and not-for-profit organizations must read this book."
-Professor Raphael H. Amit, Director of Goergen Entrepreneurial Management Program, Wharton School of Business

"Fred Lipman is considered by many directors and CEOs to be the preeminent expert on corporate governance in the country. His advice on this important topic, which impacts the boards of all types of organizations-public, private, and not-for-profit-is required reading in this day and age."
-Frederick (Ted) Peters, Chairman and Chief Executive Officer, Bryn Mawr Bank Corporation (aka The Bryn Mawr Trust Company)

"Boards of directors must be aware of best corporate governance practices in order to be effective in their oversight role and that is true for all not-for-profit organizations, including universities, as well as public and private companies. Frederick Lipman has authored a practical and comprehensive guide to 'best practices' for all boards of directors, which is required reading."
-George P. Tsetsekos, PhD, Dean, Bennett S. LeBow College of Business, Drexel University

"In a world of 'good,' 'better,' 'best,' where 'good' and 'better' may not be good enough, Fred Lipman's new book is a straightforward, and even comforting, compendium of BEST governance practices for serious directors. It is a handy and reassuring tool for the conscientious."
-Allen R. Freedman, Audit Committee Chairman, StoneMor Partners LP,Founding Director, Association of Audit Committee Members
Preface.
Acknowledgments.
PART I: BEST PRACTICES FOR ALL ORGANIZATIONS.
1. Why Is Corporate Governance Important?
2. Summary of Major Corporate Governance Principles and Best Practices.
3. Best Practices to Monitor Risk in Different Organizational Departments.
4. Monitoring and Changing the Corporate Culture.
5. The Internal Audit Function.
6. Compensation Committees of Public, Private, and Not-for-Profit Organizations.
7. Other Committees.
8. Independent Directors and Their Committees.
PART II: INFORMATION TECHNOLOGY CORPORATE GOVERNANCE.
9. IT Content: Best Corporate Governance Practices.
10. IT Security Best Corporate Governance Practices.
PART III: THE PUBLIC COMPANY AUDIT COMMITTEE.
11. Who Can Qualify for a Public Company Audit Committee?
12. Public Company Audit Committee: Personal Liability of Audit Committee Members.
13. Minimum Responsibilities of Public Company Audit Committees.
14. Other Public Company Audit Committee Functions.
15. 30 Best Practice Considerations for the Public Company Audit Committee.
16. Who Is an Independent Auditor?
PART IV: PRIVATE AND NOT-FOR-PROFIT ORGANIZATIONS.
17. Corporate Governance for Family-Owned and Other Private Businesses.
18. Corporate Governance for Not-for-Profit Organizations.
PART V: APPENDIXES.
A: Summary of Sarbanes-Oxley Act of 2002.
B: Risk Assessment Chart under Auditing Standard No. 2.
C: "Uncooking the Books: How Three Unlikely Sleuths Discovered Fraud at WorldCom."
D: Suggested Corporate Governance Web Site Resources.
Index.
CASE STUDIES: The book profiles some best practice boards on public, not-for-profit, and private companies as well as analyzes where boards on companies such as Enron and WorldCom went wrong.

ANCILLARY MATERIAL: Includes a wealth of resources that apply to instructors, including Nasdaq Stock Market Corporate Governance Guidelines, Auditor Independence Rules, a Summary Of Sarbanes-Oxley Act Of 2002, Disclosure Rules For Audit Committees, and much more.