Corporate Governance and Accountability, 3rd Edition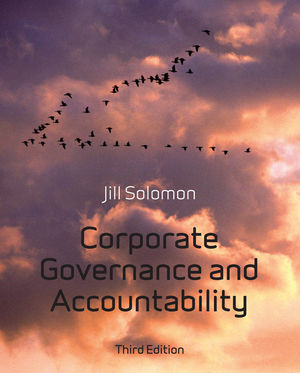 Corporate Governance and Accountability, 3rd Edition
ISBN: 978-1-119-95930-4
Jun 2011
440 pages
Description
Corporate Governance and Accountability, Third Edition will provide readers with an up-to-date summary of the most recent developments in corporate governance. The aim of the book is to provide a full discussion of corporate governance issues and it adopts a holistic approach to corporate governance. It provides a full discussion of corporate governance issues, taking the broadest view of the corporate governance agenda, including both theory and practice. The new edition is comprehensively updated and incorporates new codes of practice, policy documents and academic research.
Preface.
Acknowledgements.
Introduction.
Part I Corporate governance: frameworks and mechanisms.
1 Defining corporate governance.
2 Corporate governance failure.
3 Corporate governance reform in the UK.
4 The role of boards in corporate governance.
5 The role of institutional investors in corporate governance.
6 The role of transparency, internal control and risk management in corporate governance.
Part II Global corporate governance.
7 An introduction to corporate governance systems worldwide.
8 A reference dictionary of corporate governance systems.
Part III Corporate governance and stakeholder accountability.
9 Discharging a broader corporate accountability.
10 Environmental, social and governance considerations in institutional investment.
Appendix A The Combined Code on Corporate Governance (July 2003).
Appendix B The OECD Principles of Corporate Governance.
References.
Index.
·         New section on not-for-profit sector governance (Charity, public and voluntary sectors).
·         Updated content on European corporate governance.
·         Includes a broad range of new literature in the mainstream area of corporate governance. i.e. board performance and directors and investment institutions.
·         New case material including international examples.
·         Updated material in the 'Reference Dictionary chapter". The new codes of practice and policy documents that have emerged around the world recently will be incorporated.
·         Recent research in the history of social and environmental reporting and sustainability assurance of social and environmental reports and the role of pension fund trustees in social environmental issues (i.e. climate change).
Provides a full discussion of corporate governance issues taking the broadest view of the corporate governance agenda
Draws on the extensive and original research carried out by the author and demonstrates the close relationship between academic research and professional practice
Contains numerous contemporary illustrations and case studies, including a chapter dedicated to cases of corporate governance failure
Focuses on the relevance of corporate governance reform throughout the world and the need for global convergence
Highlights the importance of corporate social responsibility to companies, institutional investors and society as a whole
Questions for reflection and discussion
Chapters moulded around a one semester specialist module in corporate governance for students on any business-related undergraduate or postgraduate programme
Short case studies for discussion and debate
A reference dictionary for countries summarising their state of play in corporate governance