Corporate Governance and Ethics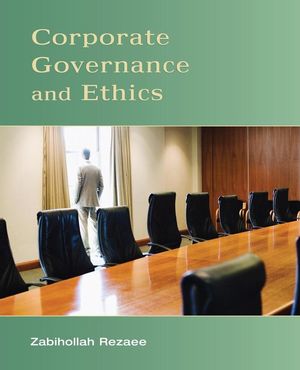 Corporate Governance and Ethics
ISBN: 978-0-471-73800-8 June 2008 464 Pages
Description
Colleges and universities play an important role in training competent and ethical future academic and business leaders. In today's global business environment, with volatile worldwide capital markets and eroded investor confidence in corporate accountability, the demand for effective corporate governance and ethical conduct in ensuring reliable financial information is higher than before. This book is intended to develop an awareness and understanding of the main themes, perspectives, frameworks, concepts, and issues pertaining to corporate governance and business ethics from historical, global, institutional, commercial, best practices, and regulatory perspectives.
Table of contents
Part One Private Enterprise and Public Trust 1
Chapter 1. The Free Market System and Business 3
Chapter 2. Corporate Governance 28
Chapter 3. Introduction to Business Ethics 60
Part Two Roles and Responsibilities of Corporate Governance Participants 87
Chapter 4. Board of Directors' Roles and Responsibilities 89
Chapter 5. Board Committee Roles and Responsibilities 117
Chapter 6. Roles and Responsibilities of Management 152
Chapter 7. Regulatory Bodies, Standard Setters, and Best Practices 191
Chapter 8. Internal Auditors' Roles and Responsibilities 227
Chapter 9. External Auditors' Roles and Responsibilities 252
Chapter 10. Stakeholders' Roles and Responsibilities 288
Chapter 11. Roles and Responsibilities of Other Corporate Governance Participants 307
Part Three Contemporary Issues in Business Ethics and Corporate Governance 321
Chapter 12. Technology and Corporate Governance 323
Chapter 13. Corporate Governance in Private and Not-for-Profit Organizations 340
Chapter 14. Corporate Governance in Transition 361
Chapter 15. Emerging Issues in Corporate Governance 395
Features
Chapter pedagogy: each chapter contains Chapter objectives, summaries, essential terms, objective questions, discussion questions, essays, and cases.