Corporate Information Factory, 2nd Edition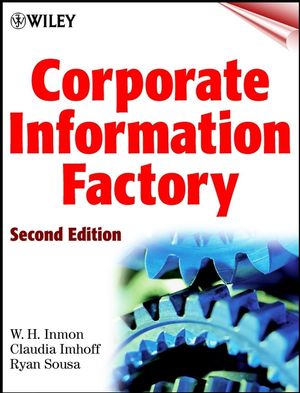 Corporate Information Factory, 2nd Edition
ISBN: 978-0-471-43750-5
Mar 2002
400 pages
Description
The "father of data warehousing" incorporates the latest technologies into his blueprint for integrated decision support systems
Today's corporate IT and data warehouse managers are required to make a small army of technologies work together to ensure fast and accurate information for business managers. Bill Inmon created the Corporate Information Factory to solve the needs of these managers. Since the First Edition, the design of the factory has grown and changed dramatically. This Second Edition, revised and expanded by 40% with five new chapters, incorporates these changes. This step-by-step guide will enable readers to connect their legacy systems with the data warehouse and deal with a host of new and changing technologies, including Web access mechanisms, e-commerce systems, ERP (Enterprise Resource Planning) systems. The book also looks closely at exploration and data mining servers for analyzing customer behavior and departmental data marts for finance, sales, and marketing.
Preface.

Acknowledgments.

Creating an Information Ecosystem.

Introducing the Corporate Information Factory.

The External World Component.

The Applications Component.

The Integration and Transformation Layer Component.

The Operational Data Store Component.

The Data Warehouse Component.

The Data Mart Component.

The Exploration and Data Mining Warehouse Components.

The Alternative Storage Component.

The Internet/Intranet Components.

The Metadata Component.

The Decision Support Capabilities.

Variations to the Corporate Information Factory.

Building the Corporate Information Factory.

Managing the Corporate Information Factory.

Multiple Data Warehouses across a Large Enterprise.

Appendix A: CIF Architecture Guidelines.

Glossary.

Recommended Reading.

Index.