Corporate Integrity: A Toolkit for Managing Beyond Compliance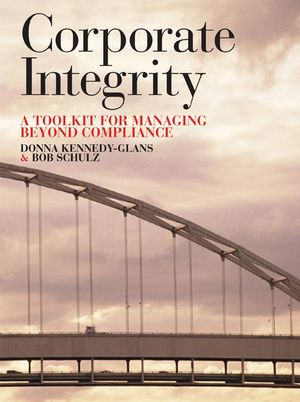 Corporate Integrity: A Toolkit for Managing Beyond Compliance
ISBN: 978-0-470-73966-2
Jan 2010
288 pages
Product not available for purchase
Description
How good companies build a culture of integrity
In the present environment of corporate governance brought on by high-profile executive scandals, this book makes a strong case for encouraging business leaders to manage beyond compliance. Achieving the bare minimum of compliance isn't enough. By making corporate responsibility and integrity a strategic priority-rather than something companies are forced to comply with-companies can realize tangible financial returns and benefits. This book provides practical advice, effective tools, and time-tested best practices for approaching corporate integrity strategically and managing an integrity program on a day-to-day basis.
There is a growing realization that compliance with the rules is only a minimum standard of performance, and an increasing demand from stakeholders at every level — shareholders, employees, customers along the entire supply chain, consumers, advocacy groups, and the local community at large — for more transparency and accountability from corporations.
But most businesses have little experience and few tools to deal with the urgent demand to increase corporate responsibility. Corporate Integrity provides practical tools and proven processes to manage complex integrity dilemmas and support implementation:
Explains how to create a culture of integrity in your organization and how to motivate the appropriate corporate behaviors.
Coverage includes: How to assess and measure integrity; how to align corporate integrity commitments and actions; how to design and implement dependable and strategic corporate accountability systems and processes; how to develop corporate integrity standards and report on them, and much more.
Includes a wealth of practical business tools and best practices that readers can apply to improve the level of corporate integrity in their own company.
Features three detailed case studies and numerous other examples that illustrate corporate integrity dilemmas and solutions in action.
Shows how managing corporate responsibility strategically and proactively can go beyond a mere public relations exercise to foster a corporate "win" in the court of popular opinion and in the marketplace.
Bridges the gaps between corporations, governments, employees, interest groups, and consumers.
Offers tools and solutions that apply to both for-profit corporations and non-profit organizations.
Preface.
Acknowledgments.
Introduction.
PART 1: NEW FRONTIERS IN MANAGING CORPORATE INTEGRITY.
Chapter 1. New Frontiers in Managing Corporate Integrity.
Chapter 2. Frontier 1: Understanding Perspectives Related to Integrity and Corporations.
Chapter 3. Frontier 2: Clarifying the Roles and Responsibilities of Corporations.
Chapter 4. Frontier 3: Aligning Corporate Integrity Values, Commitments, and Action within Individual Corporations.
Chapter 5. Frontier 4: Explaining Difference Between Corporations Regarding Integrity Values, Commitment, and Action.
Chapter 6. Frontier 5: Evaluating a Corporation's Accountability for Business Integrity and Measuring Integrity Differences Between Corporations.
PART 2: PROCESS FOR MANAGING CORPORATE INTEGRITY AND SCENARIO APPLICATIONS.
Chapter 7. Process for Proactive Management of Corporate Integrity.
Chapter 8. Scenario C: Applying Business Integrity Tools to a Business Development Opportunity for a European-based Investor in Vietnam, an Emerging Market Economy.
Chapter 9. Scenario B: Application of Business Integrity Tools to Private Company Opportunity for a Family Farm Corporation in Canada, a Developed Market Economy.
Chapter 10. Scenario: Applying Business Integrity Management Tools to Community Stakeholders.
PART 3: THE ROAD AHEAD FOR CORPORATE INTEGRITY.
Chapter 11. The Horizon: The Finish Line Is Still Moving.
Appendix : Business Tools.
Index.