Corporate Value of Enterprise Risk Management: The Next Step in Business Management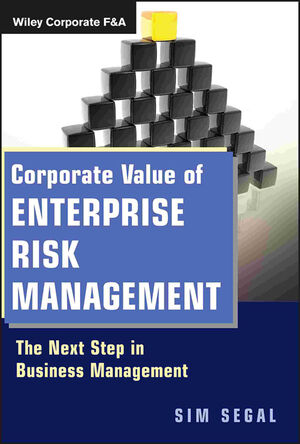 Corporate Value of Enterprise Risk Management: The Next Step in Business Management
ISBN: 978-1-119-20074-1
Oct 2015
432 pages
Description
The ultimate guide to maximizing shareholder value through ERM

The first book to introduce an emerging approach synthesizing ERM and value-based management, Corporate Value of Enterprise Risk Management clarifies ERM as a strategic business management approach that enhances strategic planning and other decision-making processes.
A hot topic in the wake of a series of corporate scandals as well as the financial crisis
Looks at ERM as a way to deliver on the promise of balancing risk and return
A practical guide for corporate Chief Risk Officers (CROs) and other business professionals seeking to successfully implement ERM
ERM is here to stay. Sharing his unique insights and experiences as a recognized global thought leader in this field, author Sim Segal offers world-class guidance on how your business can successfully implement ERM to protect and increase shareholder value.
Foreword.
Preface.
Acknowledgments.
Part I: ERM Basics and Infrastructure.
Chapter 1: Introduction.
Evolution of ERM.
Basel Accords.
September 11th.
Corporate Accounting Fraud.
Hurricane Katrina.
Rating Agency Scrutiny.
Financial Crisis.
Rare Events.
Long-Term Trends.
Challenges to ERM.
Summary.
Notes.
Chapter 2: Defining ERM.
Definition of Risk.
Definition of ERM.
Summary.
Notes.
Chapter 3: ERM Framework.
Value-Based ERM Framework.
Challenges of Traditional ERM Frameworks.
Value-Based ERM Framework.
Overcoming the Challenges with a Value-Based ERM Framework.
Summary.
Notes.
Part II: ERM Process Cycle.
Chapter 4: Risk Identification.
Components of Risk Identification.
Five Keys to Successful Risk Identification.
Risk Categorization and Definition.
Qualitative Risk Assessment.
Emerging Risk Identification.
Killer Risks.
Summary.
Notes.
Chapter 5: Risk Quantification.
Practical Modeling.
Components of Risk Quantification.
Calculate Baseline Company Value.
Quantify Individual Risk Exposures.
Quantify Enterprise Risk Exposure.
Summary.
Notes.
Chapter 6: Risk Decision-Making.
Defining Risk Appetite and Risk Limits.
Integrating ERM into Decision-Making.
Summary.
Notes.
Chapter 7: Risk Messaging.
Internal Risk Messaging.
External Risk Messaging.
Summary.
Notes.
Part III: Risk Governance and Other Topics.
Chapter 8: Risk Governance.
Focusing on Common Themes.
Components of Risk Governance.
Roles and Responsibilities.
Organizational Structure.
Policies and Procedures.
Summary.
Notes.
Chapter 9: Financial Crisis Case Study.
Summary of the Financial Crisis.
Evaluating Bank Risk Management Practices.
Summary.
Notes.
Chapter 10: ERM for Non-Corporate Entities.
Generalizing the Value-Based ERM Approach.
Complexities of Objectives-Based ERM.
Examples of NCEs.
Summary.
Conclusion.
Notes.
Glossary.
About the Author.
Index.