Corrosion and Oxide Films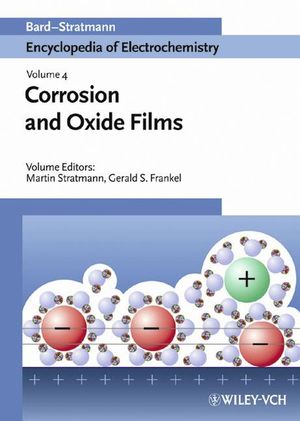 Corrosion and Oxide Films
ISBN: 978-3-527-30396-0
Apr 2003
755 pages
Description
Unrivalled in its breadth and depth, this 11-volume encyclopedia provides both an easy introduction to all topics related to modern electrochemistry as well as a comprehensive overview of the subject. Throughout, the emphasis is in easy access to information, with every topic treated at an introductory, medium and advanced level. This first-class reference work is edited and written by renowned scientists, covering everything from fundamental research to areas of application. Alan Bard, experienced editor of the Journal of the American Chemical Society, is one of the most renowned experts in electrochemistry and one of the editors-in-chief.
1. FUNDAMENTALS.
Fundamentals of Corrosion (D. Landolt & G. Frankel).
Thermodynamics of Electrolytic Corrosion (D. Landolt & G. Frankel).
Kinetics of Electrolytic Corrosion Reactions (D. Landolt & G. Frankel).
Transport Phenomena in Electrolytic Corrosion (D. Landolt & G. Frankel).
2. HOMOGENEOUS CORROSION OF METALLIC MATERIALS IN ELECTROLYTES.
Uniform Corrosion of Metals in Acid, Neutral and Alkaline Electrolytes (R. Feser).
Hydrogen Ingress during Corrosion (B. Pound).
Corrosion of Alloys (H. Kaiser & G. Eckstein).
3. CORROSION OF OXIDE COVERED METALS.
Atmospheric Corrosion (C. Leygraf).
Passivity of Metals, Alloys, and Semiconductors (A. Hassel & J. Schultze).
4. LOCALISED CORROSION PHENOMENA.
Crevice Corrosion (R. Kelly).
Pitting Corrosion (H. Strehblow).
Intergranular Corrosion (J. Scully).
5. CORROSION PROTECTION.
Anodic and Cathodic Protection (U. Mudali, et al.).
Corrosion Protection by Inhibition (O. Magnussen).
Conversion Coatings (K. Ogle & R. Buchheit).
Corrosion Protection by Organic Coatings (A. Simões & G. Grundmeier).
Corrosion Protection by Metallic Coatings (W. Plieth & A. Bund).
6. CORROSION IN SPECIAL ENVIRONMENTS.
Molten Salt-induced Corrosion of Metals (Hot Corrosion) (M. Spiegel).
High-temperature Corrosion of Metals by Gases (G. Holzäpfel & H. Grabke).
Microbiologically Influenced Corrosion (B. Little, et al.).
7. ELECTROCHEMICAL TECHNIQUES FOR CORROSION (G. Frankel & M. Rohwerder).
Volume Index.