Cost-Affordable Titanium: Symposium Dedicated to Professor Harvey Flower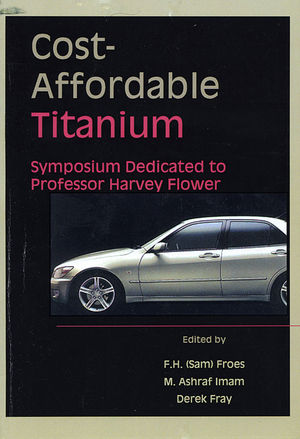 Cost-Affordable Titanium: Symposium Dedicated to Professor Harvey Flower
ISBN: 978-0-873-39560-1
Mar 2004
229 pages
Description
Titanium and titanium alloys are used in many demanding applications in aerospace and terrestrial systems because of their excellent combination of mechanical properties and corrosion resistance. However, high costs resulting from an energy-intensive extraction process and complex fabrication sequence excludes titanium alloys from many applications. This proceedings volume will address all aspects of potential cost reduction of titanium alloys, covering such segments of titanium technology as extraction, creative melting including cold-hearth approaches, near-net-shape techniques, processing and fabrication advances, high-speed machining and knowledge-based processing with emphasis on computer-aided approaches, improved process control, and creative designs. This volume will be of widespread interest to materials scientists and engineers working in the aerospace, automobile, chemical processing, medical, and consumer industries.

From 2004 TMS Annual Meeting to be held in Charlotte, North Carolina, March 14-18, 2004.

An errata document for the volume is available for complimentary download.
Foreword.
OVERVIEW AND INNOVATIVE PROCESSES.
Cost Affordable Titanium – Is It Possible? (F.H. (Sam) Froes, M.A. Imam and D. Fray).
Extraction of Titanium from Solid Titanium Dioxide in Molten Salts (D.J. Fray and G.Z. Chen).
Developing Applications for Titanium (F.H. Froes, K. Yu and T. Nishimura).
Economic Analysis of the Application of Emerging ReductionTechnologies to Mill Products Production (E.H. Kraft).
The Role of Net Shape Manufacture in Reducing Life Cycle Costs of GasTurbine Components (D. Rugg and D. Fray).
BREAK THROUGH TECHNOLOGIES.
A Thermal and Microstructure Model for Laser Deposition of Ti-6Al-4V (S.M. Kelly, S.S. Babu, S.A. David, T. Zacharia and S.L. Kampe).
MEM Titanium Production: Possibilities for Cost Reduction (Y. Kompan and I. Protokovilov).
Improving Wear Resistance of Alloy Ti-6Al-4V (I. Ucok, M. Gungor, K.L. Klug and J.R. Pickens).
TITANIUM ECONOMICS.
Development of Low Cost Titanium Alloy Sheets For Automotive ExhaustApplications (Y. Kosaka, S.P. Fox, K. Faller and S.H. Reichman).
Low Cost Processes for Automotive Titanium Materials (Y. Kosaka, S.P. Fox, K. Faller, S.H. Reichman and D. Tilly).
Blended Elemental Powder Metallurgy Approach to Produce GammaTitanium Aluminide and Composite Ti-6Al-4V/TiAl/Ti-6Al-4V Structures (V.S. Moxson, V.A. Duz, J.S. Montgomery, K. Sumranthin, F.H. (Sam) Froes and F. Sun).
CREATIVE PROCESSING.
Electrochemical Deoxidation Mechanisms of Titanium Oxides (K. Dring, M. Jackson, R. Dashwood, H. Flower and D. Inman).
Affordable Ti-6Al-4V Castings (K.L. Klug, M. Gungor, I. Ucok, L. Kramer, C. Hatch, R. Spencer and R. Lomas).
Cold Formability Response to Solution Treatment Temperature of LowCost Beta Titanium Alloys for Welfare Goods (M. Ikeda, S. Komatsu, M. Ueda and A. Suzuki).
CREATIVE FABRICATION.
Commercialization of the Armstrong Process for Producing Titanium AlloyPowder (R.P. Anderson, W. Ernst, L. Jacobsen, D. Kogut and J.M. Steed).
The Utilization of Recycled Titanium Ores and Innovative Plasma ArcTechnology for the Production of Low Cost Titanium Metal Powders (L.V. Sieck, M.W. Shuey, D.I. Kaplan and J.G. Reed).
Effect of Oxygen Content on Properties of Cast Alloy Ti-6Al-4V (M. Guclu, I. Ucok and J.R. Pickens).
Powder Metallurgy Ti-6Al-4V Components Produced from Low CostBlended Elemental Powders by Hot Pressing (V.A. Duz, V.S. Moxson, K. Sumranthin, F.H. (Sam) Froes, F. Sun and J.S. Montgomery).
Titanium Eddy Current Measurements (J.P. Wallace, R.M. Siegfried and J. Dunn).
Titanium in the Family Automobile: The Cost Challenge (F.H. (Sam) Froes, H. Friedrich, J. Kiese and D. Bergoint).
LOW COST TITANIUM.
Influences of Alloy Chemistry and Microstructure on the Machinability ofTitanium Alloys (Y. Kosaka and S.P. Fox).
Improving Grindability and Wear Resistance of Titanium Alloys (T. Okabe, M. Kikuchi, C. Ohkubo, M. Koike, O. Okuno and Y. Oda).
PROPERTY ENHANCEMENT.
Ultra-High Pressure Warm Compaction for P/M Titanium Components (H. Takamiya, M. Kondoh and T. Saito).
Light Weight Powder Metallurgy Titanium-Magnesium-AluminumComposites for Structural Application (V.S. Moxson, V.A. Duz, J.S. Montgomery, K. Sumranthin, F.H. (Sam) Froes and F. Sun).
Properties of Cost-Affordable High-Performance Titanium Alloy Series "Super-TIX" (A. Kawakami, H. Fujii, K. Takahashi, Y. Yamashita, T. Hirata and T. Oda).
Mechanism of Electrolytic Reduction of Titanium Dioxide in Solid State inMolten Calcium Chloride Based Salts (I. Ratchev, S. Bliznyukov, R. Olivares and R.O. Watts).
Author Index.
Subject Index.