Cost Containment in Higher Education: Expanded and Assessment Realigned: ASHE-ERIC Higher Education Research Report, Volume 28, Number 5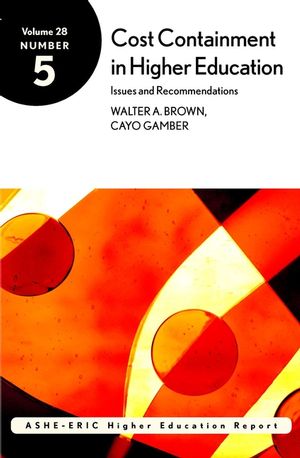 Cost Containment in Higher Education: Expanded and Assessment Realigned: ASHE-ERIC Higher Education Research Report, Volume 28, Number 5
ISBN: 978-0-787-95838-1
Mar 2002, Jossey-Bass
115 pages
Description
With increased public concern over accountability, educational institutions are being asked the defend their expenses. In addition, the heady economic boom of the late 90's has given way to an economic slowdown and possible recession, making colleges and universities take hard looks at their spending practices. This book offers practical advice on how to contain costs in an academic environment, highlighting how economic models from business and industry can be translated for use in educational institutions. The authors use case studies to add context and detailed analysis to show how campuses can make needed modifications in their budgets while staying true to their mission and goals.
Foreword.
Introduction.
What's Driving Your Instructional Cost?
Faculty Compensation.
Faculty Productivity.
Financial Commitment to Tenure.
Summary.
Are There Cost Savings in Academic Libraries?
Acquisition Costs.
Technology Impact on Academic Libraries.
Outsourcing in Academic Libraries.
Summary.
Can Plant Operations and Facilities Continue to Be Ignored?
Deferred Maintenance.
Outsourcing.
Energy Management.
Summary.
Is Research a Facilitator or Barrier to Cost Containment?
Sponsored Research.
University-Sponsored Research.
Direct and Indirect Cost Factors.
Summary.
Can University Student Services Remain Viable with an Increasing Cost Structure?
Student Aid Administration.
Student Activities.
Supplemental Educational Services.
Summary.
External Cost Factors: Are States' Policies for Higher Education Institutions Helping or Hindering Cost Containment Opportunities?
Assessment and Accountability.
Performance Funding and Budgeting.
Restructuring.
Summary.
Conclusion and Recommendations.
Summary of Chapter Issues (Were the Questions Answered?).
Final Comments.
Notes.
References.
Name Index.
Subject Index.