Cost Management: Measuring, Monitoring, and Motivating Performance, 2nd Edition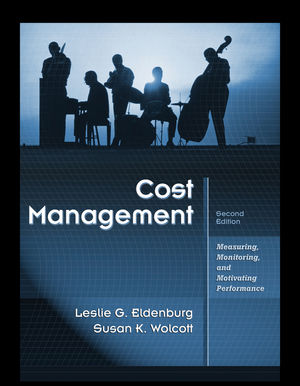 Cost Management: Measuring, Monitoring, and Motivating Performance, 2nd Edition
ISBN: 978-0-470-76942-3
Jul 2011
776 pages
Product not available for purchase
Description
The new Second Edition of Cost Management: Managing, Monitoring, and Motivating Performance by Leslie Eldenburg and Susan Wolcott will be available this June through our Wiley Custom Select website.

Most Cost Accounting textbooks focus on content knowledge and then expect students to demonstrate skills such as decision-making and critical thinking. Cost Management better prepares students for professional success by bridging the gaps between Knowledge, Skills and Abilities.

Authors, Leslie Eldenburg and Susan Wolcott realize that many students fail to recognize the assumptions, limitations, behavioral implications and qualitative factors that influence managerial decision-making.  The author team focuses on cost accounting methods, techniques, and the quality of cost accounting information used for decision-making to deliver a thoroughly modern treatment of cost accounting topics.

Cost Management is written in a style that is accessible to students through a decision-making framework, use of realistic examples, real ethical dilemmas, self-study problems, and unique problem material structured to encourage them to think about accounting problems and problem-solving.
Business Risk is introduced in Ch 1 and is referenced throughout the text to reflect the real business consequences of the information provided and the decisions made. Considering the risk in reviewing accounting information is a legitimate business concern as well as important student learning tool.
Robert Simons' levers of control model is introduced in Ch 1 and used throughout the text as a framework for management control systems
Cognitive bias boxes (i.e. a specific type and example) are included in each chapter
New, more accessible format for Process Costing Exhibits in Ch 6
New sections on GPK (German cost accounting) and resource Consumption accounting (RCA) now featured in Ch 7
Stronger emphasis on Customer Profitability in Ch 7
New section on Lean Accounting in Ch 13
New Ch 17 on Sustainability Management Accounting
More short exercises at the end of each chapter
Increased focus on Firm Strategy in Ch 1 and 16 and throughout text
Updated and reformatted ethics vignettes to more precisely emphasize the issues.
Explores ethical questions about real business scenarios by introducing an ethical decision making framework in Chapter 1; presenting ethical scenarios in each chapter; and posing one or more ethical homework problems in each chapter.
A selection of end of chapter material that challenges a student's computational, spreadsheet, and critical thinking skills with unique problem types including:

Integrating Across the Curriculum homework problems where students are asked to integrate applications of the cost accounting concepts across the curriculum e.g., auditing, marketing, finance
Learning Outcome Assessment homework problems accompanied by detailed guideance in the instructor manual.
Build Your Professional Competencies homework problem in each chapter that encourages students to explore in detail one of the IMA / AICPA core competencies and tie that competency to course content