Cost Planning and Estimating for Facilities Maintenance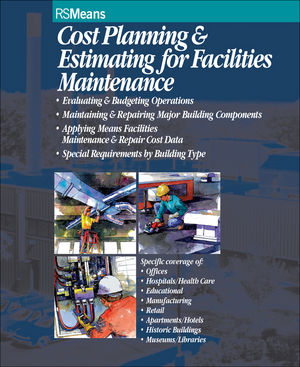 Cost Planning and Estimating for Facilities Maintenance
ISBN: 978-0-876-29419-2 May 1996 496 Pages
Description
This comprehensive reference covers all aspects of cost planning and estimating for facilities maintenance: 
A comprehensive approach to M & R planning and budgeting for all major building types in the private and public sector
Expert advice on M & R requirements for building components
Easy-to-follow tips & examples on assembly costs into a defensible budget
Understanding operating costs and exploring opportunities for improvement 
Building a maintenance and repair cost profile 
Addresses 10 major building types, including corporate, hospitals, offices, more
Foreword.
Preface & Acknowledgements.
Part 1: Facilities Operations Planning.
Chapter 1: The Building Proforma.
Chapter 2: Capital Planning.
Chapter 3: Maintenance Outsourcing.
Chapter 4: Benchmarking Facility Maintenance.
Chapter 5: Computerized Maintenance Management Systems.
Chapter 6: Codes and regulations.
Part 2: Maintenance Requirements by Building Component.
Chapter 7: Foundations, Substructures, and Superstructures.
Chapter 8: Roofing.
Chapter 9: Interior Finishes.
Chapter 10: Conveying Systems.
Chapter 11: Mechanical Systems.
Chapter 12: Electrical.
Chapter 13: Landscaping.
Part 3: Estimating and Budgeting Maintenance Costs.
Chapter 14: Using Means Facilities Maintenance & Repair Cost Data.
Chapter 15: Maintenance & Repair Estimating.
Chapter 16: Preventive & Predictive Maintenance Estimating.
Chapter 17: General Maintenance Estimating.
Chapter 18: Value Engineering: Continued Maintenance vs. Capital Improvements.
Chapter 19: Deferred Maintenance.
Chapter 20: Reserve Funds.
Part 4: Special Maintenance Considerations by Building Type.
Chapter 21: Apartment Buildings and Condominiums.
Chapter 22: Educational Facilities.
Chapter 23: Health Care Facilities (Hospitals and Clinics)
Chapter 24: Historic Buildings.
Chapter 25: Hotels and Convention Centers.
Chapter 26: Museums and Libraries.
Chapter 27: Manufacturing Facilities.
Chapter 28: Office Buildings.
Chapter 29: Retail Facilities.
Part 5: Putting It All Together.
Chapter 30: The Maintenance Budget.
Appendix.
Index.