Coumarins: Biology, Applications and Mode of Action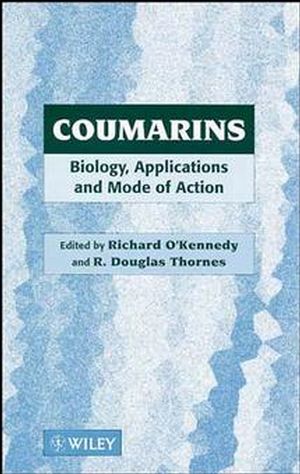 Coumarins: Biology, Applications and Mode of Action
ISBN: 978-0-471-96997-6
Apr 1997
360 pages
Description
Coumarins: Biology, Applications and Mode of Action predominantly focuses on the parent compound, coumarin, and its main metabolite in humans, 7-hydroxycoumarin. It describes in detail every facet of these compounds including history, toxicology, chemistry, metabolism, analysis, clinical, veterinary and other applications, their roles as immunomodulatory agents and speculates on their mode of action.
List of contributors.
Preface.
History of the Development and Applications of Coumarin and Coumarin-related Compounds (I. Weinmann).
The Chemistry and Occurrence of Coumarins (G. Keating & R. O'Kennedy).
The Metabolism of Coumarin (O. Pelkonen).
The Effects of Coumarin and its Metabolites on Cell Growth and Development (B. Seliger).
Coumarin as an Immunomodulator (G. Zlabinger).
The mode of Entry of Coumarin into Cells and its Effects on Cell-Cell Communication and Migration (K. S. Zlabinger).
Coumarin in the Treatment af Lymphoedema and Other High-Protein Oedemas (J. R. Casley-Smith, J. R.Casley-Smith).
Mode of Action of Coumarin in the Treatment of Thermal Injuries (N. Piller).
Renal Cell Carcinoma: The Background, Rationale and Current Development of Coumarin (1,2-benzopyrone) as a Potential Therapeutic Agents (S. W. Ebbinghaus, et al.).
The Potential Role of Coumarins in the Therapy of Prostate Cancer (J. Mohler, et al.).
Clinical and Biological Observations Associated with Coumarins (R. Thornes).
Analysis of Coumarins (D. Bogan, et al.).
Coumarins - Multifaceted Molecules with Many analytical and Other Applications (D. Cooke et al.).
Suggested Modes of Action of Coumarins and Some Comments on their Significance (R. O'Kennedy & R. Thornes).
Index.