Counseling Toward Solutions: A Practical Solution-Focused Program for Working with Students, Teachers, and Parents, 2nd Edition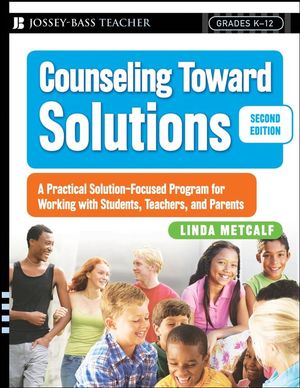 Counseling Toward Solutions: A Practical Solution-Focused Program for Working with Students, Teachers, and Parents, 2nd Edition
ISBN: 978-0-787-99806-6 March 2008 Jossey-Bass 252 Pages
Description
When it was first published in 1995, Linda Metcalf's book Counseling Toward Solutions became an instant bestseller. Written for counselors and teachers at all levels, this revised and updated second edition of Counseling Toward Solutions presents a positive program for changing individual behavior that empowers students of all ages to deal with their own problems, gaining self-esteem in the process.
About This Book.
About the Author.
Acknowledgments.
Foreword by Bill O'Hanlon.
1 Learning to Think with a Solution Focus.
2 Creating Possibilities Through Language.
3 Competency-Based Conversations.
4 Reviving Piaget: Helping Teachers to Become Solution Focused.
5 The Miracle Question: Goal Setting for Success.
6 Constructing New Stories with Elementary Students.
7 Relationships, Reputations, and Scheduling: Creating Success with Secondary Students.
8 Working with Families to Change the Lives of Students.
9 Disciplining Differently: Behavior Transformations.
10 Helping Students Deal with Dangerous Habits and Diffi cult Situations.
Bibliography and References.
Index.
Proven track record: This book has become a classic text in the field, with more than 55K copies sold.
Saves counselors time: School counselors have less and less time for one-on-one counseling, and are clamoring for new approaches to counseling that are fast and effective. This bookâ??s approachâ??solution-focused brief therapyâ??fits this need, saving school counselors vast amounts of time and improving their success rate with students.
Filled with reproducible worksheets: This is the only solution-focused book for school counselors that includes scores of reproducible worksheets (80 in all), helping to make the school counselorâ??s day efficient and productive.
Addresses todayâ??s issues: Helps counselors deal with a variety of student issues, such as incarcerated parents, drug and alcohol use, physical and sexual abuse, anger, and depression.
Ideal for counselor education courses: This field-tested book has been chosen time and again by professors teaching school counselors since it offers both the theory behind solution-focused counseling and practical steps to take with students, parents, and teachers.