Counseling and Mental Health Services on Campus: A Handbook of Contemporary Practices and Challenges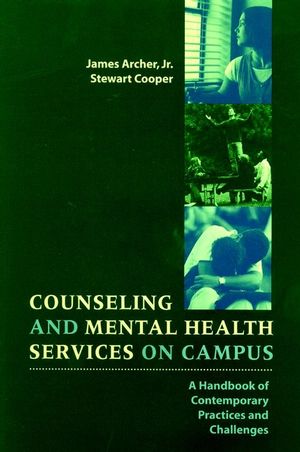 Counseling and Mental Health Services on Campus: A Handbook of Contemporary Practices and Challenges
ISBN: 978-0-787-91026-6
Aug 1998, Jossey-Bass
320 pages
Description
This timely guide addresses the daunting challenge of meeting the increasing demand for mental health counseling services with limited resources. An invaluable resource for counselors and administrators presenting the most current practices, models, and approaches for addressing the mental health needs of today's university students. In straightforward and clear language, James Archer Jr. and Stewart Cooper demonstrate how to organize, implement, and manage effective counseling, prevention, and development services on four year college campuses.

Counseling and Mental Health Services on Campus explains how the efficient and effective models of brief therapy and group counseling are especially well-suited to the college environment and demonstrates how university programs can expand counseling services through the creative use of paraprofessionals, faculty, and staff, professional volunteers, and part-time staff. Archer and Cooper offer practical counseling approaches that will meet the needs of students with specific problems, such as substance abuse and eating disorders, as well as students with developmental concerns. The authors also suggest useful techniques and strategies for working with a variety of populations such as women, minority groups, gay, lesbian, and bisexual students, and adult learners. An innovative new approach is described which the authors call the initiator-catalyst approach and the book's illustrative examples demonstrate the application and effectiveness of this important new model.
Introduction: Overview of Current and Emerging Challenges.

MEETING THE NEED FOR BASIC COUNSELING SERVICES.

Counseling Needs of Today's College Students.

Brief Therapy: The Model of Choice for College Counseling.

Group Counseling: Treatment of Choice for Many Students.

Expanding Services with Faculty, Student, and Other Helpers.

Alternatives and Adjuncts to Counseling.

Meeting the Specific Challenges of Serious and Developmental Problems.

Counseling with Special Populations.

STRATEGIES FOR OUTREACH AND SYSTEMIC INTERVENTIONS.

Promoting Prevention Through Outreach and Consultation.

Counselors as Initiators and Catalysts for Change.

Supporting Student and Faculty Development.

Educational and Preventive Responses to Public Health Issues.

Promoting Campus Diversity and Multiculturalism.

ADMINISTRATIVE AND PROFESSIONAL ISSUES.

Research and Evaluation for Promoting Service Excellence.

Ethical and Legal Requirements of Practice.

Professional Training and Accreditation.

Organizing and Delivering Counseling Services.

Providing Leadership for Quality in Campus Counseling.
"A long awaited, comprehensive source book for university counseling/psychological service centers. It has been over 20 years since the last good book on university/college counseling centers. This book should be required reading for counseling center administrators, staff, and students in training . . .and directors ought to forward a copy to any administrator to whom they report!" (Dennis Heitzmann, director, Center for Counseling and Psychological Services, Pennsylvania State University)

"Archer and Cooper have produced a most readable, comprehensive view of the scope and practice of counseling in higher education. A useful reference guide for developing, improving, and/or validating counseling center programs and services . . . . a highly recommAnded, valuable resource guide for both academics and practitioners." (Carol A. Geer; director, Counseling and Career Services; executive director, Student Development Services; University of California, Santa Barbara)

"A comprehensive resource that discusses every aspect of the services, programs, and organizational structures found in today's university and college counseling centers." (Rosie P. Bingham; assistant vice president, Student Affairs/Student Development, University of Memphis; president-elect, Division of Counseling Psychology, American Psychological Association)

"This book will become the standard reference for administrators and mental health professionals who provide counseling programs in colleges and universities." (Arthur Sandeen, vice president, Student Affairs, University of Florida)