Counseling and Psychotherapy Theories in Context and Practice: Skills, Strategies, and Techniques, 2nd Edition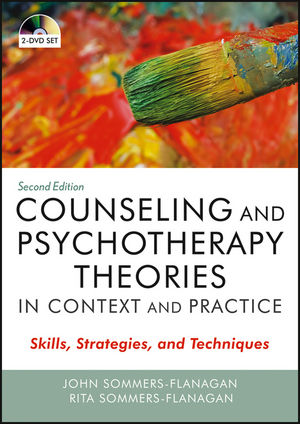 Counseling and Psychotherapy Theories in Context and Practice: Skills, Strategies, and Techniques, 2nd Edition
ISBN: 978-1-118-40253-5
Sep 2012
Description
Learn various counseling and psychotherapy theories through authentic examples led by actual practitioners working with real clients
This comprehensive two-DVD set promotes student learning by illustrating the theories covered in the textbook Counseling and Psychotherapy Theories in Context and Practice, Second Edition by John and Rita Sommers-Flanagan. The DVDs can be used in conjunction with this text or as a stand-alone teaching tool in any course covering psychotherapy theories and techniques.
Unique in its presentation of real clinicians from a variety of work settings—including school and college counselors—working with actual clients, the DVDs:
Feature practitioners and clients who represent ethnic, gender, age, and religious diversity
Model how to develop positive therapeutic relationships with clients using different theoretical perspectives
Help students not only understand the differences between theories, but also the difference between theory and technique
Offer commentary by the authors on how the clinician in the session made decisions from a theoretical perspective as well as why a particular theoretical approach was appropriate for a specific client
Exploring Psychoanalytic, Adlerian, Existential, Person-Centered, Gestalt, Behavioral, Cognitive-Behavioral, Reality, Feminist, Solution-Focused, and Family Systems theories, these two DVDs shed light on how to implement techniques associated with these theories in practice with clients.
System requirements:
TV or computer DVD player
Windows® XP, Vista, or 7; MacOS® 10.4 or later
512 MB RAM
A DVD drive
Approximate run time: 4:25
(Disk 1: 2:04; Disk 2: 2:21)