Counselling Skills for Dietitians, 2nd Edition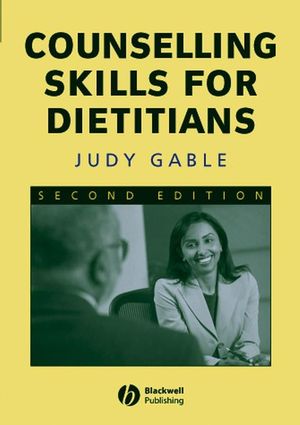 Counselling Skills for Dietitians, 2nd Edition
ISBN: 978-0-470-77762-6 April 2008 Wiley-Blackwell 272 Pages
Description
Dietitians need to use advanced communication skills as well as technical expertise in order to assess clients' needs, identify their problems and help them to manage their diet and lifestyle. The ability to develop a helping relationship is fundamental to achieving a mutually satisfactory dietetic interview. Counselling skills, defined as advanced communication skills used intentionally in a helping relationship, are therefore essential for good dietetic practice at all levels of the profession.





This book demonstrates how a practitioner can develop a counselling approach and employ appropriate counselling skills to overcome the communication difficulties encountered by dietitians and those engaged in helping clients change their eating behaviour.





New material in the second edition includes an expanded section on the patient interview including assessing motivation and applying aspects of CBT (cognitive behavioural therapy) and a new section on personal development including examples and discussion on issues of interprofessional communication and working in a multidisciplinary team.
Foreword.
Acknowledgements.
Introduction.
Part 1: A counselling approach.
The dietitian as a skilled helper.
The patient.
The relationship between dietitian and patient.
Working together.
Part 2: The Skills.
Active listening.
Responding.
Making helpful interventions.
Part 3: The patient interview.
Developing a framework.
Loss and bereavement.
Parents and children.
Transcultural communication.
Working with difficulties in physical and mental health.
Putting it into practice.
Part 4: Areas for personal development.
Dealing with difficult situations at work.
Support for the dietitian.
Summaries and points for discussion.
Appendices.
Further reading.
Useful addresses.
Index
'Provides an invaluable source of insight and practical guidance which will help those who are new to the profession to develop the skills which are so vital for effective practice. There is also plenty for the more experienced practitioner to reflect on.' - Jane Thomas, Senior Lecturer in Nutrition & Dietetics, King's College, London
'It is written in a clear, straightforward way yet what is said is quite profound.' - Janet Seller, Primary Care Counsellor and Supervisor

'These are great developments for the book. I found it all very relevant and the extra detail and practical examples make it especially helpful, particularly for students.' - Tamara Herrmann, Visiting Lecturer, King's College, London

'The author's experience as both a dietitian and counsellor marry together well to give a book which rightly deserves a place within every dietetic department, to encourage experienced dietitians, as well as those newly qualified and in training, to embrace counselling skills as an integral part of their practice
Laura Forrest, Community Specialist Dietitian, Nutrition Bulletin


Attractively set out and well written the book is both practical and interactive


Examples from daily practice illustrate the difficulties encountered by dietitians and demonstrate the application of counselling skills


Clearly explained theoretical models of accepted counselling practice underpin the skills described


The author draws on her personal experience as a dietitian, counsellor and trainer of counselling skills