Counselling and Communication Skills for Medical and Health Practitioners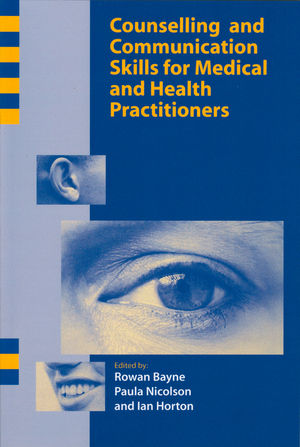 Counselling and Communication Skills for Medical and Health Practitioners
ISBN: 978-1-854-33256-1 April 1998 Wiley-Blackwell 244 Pages
Description
This is a highly practical handbook aimed specifically at medical and health care professionals. The book begins with an overview of the main issues of counselling and communication looking also at the importance of self-care from both a personal and organizational perspective. Basic counselling and communication skills are followed by their application to specialised settings including sexual health, child health, infertility and rehabilitation.
Background.
1. Counselling and Communication in health care.
2. Looking after yourself.
.
General Skills.
3. Listening: some basic qualities and skills.
4. Listening to stories about illness and health: applying the lessons of narrative psychology.
5. Mental illness and communication.
6. Increasing multicultural competence.
7. Psychological type (Myers-Briggs).
8. Group Membership.
.
Specialised Skills and Settings.
9. Talking to children and adolescents about life, death and sex.
10. Talking about sexuality and sexual problems.
11. Working with infertility.
12. Solution-focused brief therapy: from hierarchy to collaboration.
13. Communicating about ethical dilemmas: a medical humanities approach.
14. Rehabilitation counselling.
'This exciting book provides a satisfying blend of theory and practice with vignettes of practice that bring the text to life.'

Dr Graham Curtis Jenkins, Director, Counselling in Primary Care Trust.
<!--end-->

'This is an excellent text that deals with the burgeoning areas of counselling and communication skills.'
British Journal of Medical Psychology.

'It gives useful diagrams and models for interviewing, illustrating the text throughout with real patients. Overall it is an interesting and very readable book.'
Practice Nurse.

'Although all the chapters are good, those dealing with "listening to stories about illness and health" and "rehabilitation counselling" are particularly impressive. I would not hesitate in recommending this book to nurses.'
Journal of Community Nursing.