Country House Life: Family and Servants 1815-1914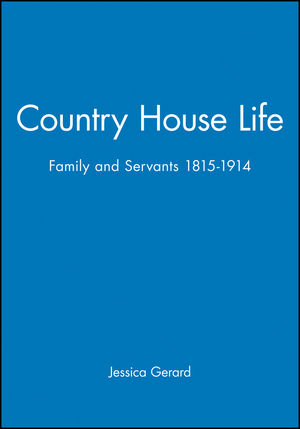 Country House Life: Family and Servants 1815-1914
ISBN: 978-0-631-15566-9 October 1994 Wiley-Blackwell 388 Pages
Download Product Flyer
Download Product Flyer
Download Product Flyer is to download PDF in new tab. This is a dummy description. Download Product Flyer is to download PDF in new tab. This is a dummy description. Download Product Flyer is to download PDF in new tab. This is a dummy description. Download Product Flyer is to download PDF in new tab. This is a dummy description.
Description
This is an account of the lives of the families and the servants of the British country house from the end of the Napoleonic wars to the onset of the Great War. It is a pioneering history based on contemporary records, diaries, private and public autobiographies, and on the childhood recollections of living descendants. Never before have the intimacies of life above and below stairs been depicted with such clarity and vividness.
Country house family and servants were the two elites of British society and this was the period of their greatest prosperity. They were closely reliant on each other. 'Our servants and we are all members of a large family, who cannot get on independently of each other,' Lady Jenne wrote in 1892. The omnipresence of the servants affected every aspect of the family's behavior and the family shared the lives of the servants: the country house was a community. The power base of the nation's political establishment, it was also home - a tangible symbol of lineage, permanence and stability, embodying in its fabric, decoration and ritual the accumulations and memories of successive generations.
The book is illustrated with rare contemporary photographs, is fully referenced, has a wide ranging bibliography of primary and secondary sources, and is comprehensively indexed. Its evocation of a style of life and ways of living that have now largely vanished will be of equal interest to scholar, student and general reader.
Table of contents
Introduction.
1. Demography of the Family.
2. The Country House Childhood.
3. Parents and Children.
4. Courtship and Marriage.
5. The Lives of Women.
6. Staff Size.
7. Demography of Servants.
8. Gentleman's Service.
9. Life Below Stairs.
10. Employers and Servants.
Conclusion.
Notes.
Appendices.
Bibliography.
Index.
Reviews
"In spite of the number of books on the topic, Jessica Gerard has managed to make an important contribution ..."
The American Historical Review
"Gerard's account breaks new ground in several ways. It studies the country house as a functioning machine, gives much more attention to upper-class women, explores the relationships between masters and servants and it strikes a nice balance between the forces of continuity and change as they affected the 19th-century country house. Fascinating and well documented study." The Spectator
"With admirable objectivity, the author challenges the myths and misconceptions of country-house life and, in doing so, helps to explain the enduring attraction of her subject ..... Absorbing and scholarly." Country Life
"We know a great deal about the theory of country houses, both as machines for living and as power bases for the landed classes, but not much about the actual practice of living in and running them. Jessica Gerard, in this finely researched book, breathes life into the theory, and fills the country house with real people. It is on the servants that Jessica Gerard has her most absorbing material, and it is in analysing their lives, careers and relations with their employers that she makes her most striking contribution to scholarship. ... Jessica Gerard has furnished a fully documented and verified version not simply of Upstairs, Downstairs, but of all the different worlds of servants' halls. It is a notable achievement." The Times Literary Supplement
Features
* Illustrated with rare contemporary photos.
* Based on diaries, childhood recollections of living descendants and private and public autobiographies.