Countryside in Trust: Land Management by Conservation, Recreation and Amenity Organisations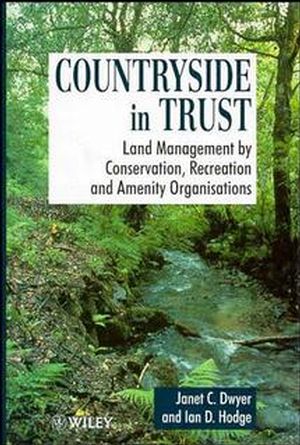 Countryside in Trust: Land Management by Conservation, Recreation and Amenity Organisations
ISBN: 978-0-471-94871-1 May 1996 314 Pages
Description
The development of agriculture has caused rapid changes to the rural environment. Today, with growing awareness and concern for environmental issues, there is a movement to stem further damage to the countryside and replace some of the values which have been lost. Voluntary non-profit organisations which own and manage land for countryside conservation are playing an increasingly important role in this movement. These are called CARTs Conservation, Amenity and Recreation Trusts. Countryside in Trust explores the principles behind this movement and investigates the activities of the wide range of organisations involved, both large and small, including the National Trust, The Royal Society for the Protection of Birds, and the Scottish Tree Trust. The origins and experiences of CARTs are traced in a series of chapters which examine the different types of organisation, their land management activities and finances, and their close relationship with government agencies at all levels. Finally, the authors describe the role of public policy towards CARTs and assess the implications for the future. This is the first book to examine the large numbers of landholding environmental and amenity trusts in the UK, and is essential reading for students, voluntary organisations, conservation groups, land owners and local authorities.
Table of contents
SETTING THE SCENE.

The Changing Rural Context and the Place of CollectiveAction.

Changing Interests in Rural Land.

Collective Action and the Public Interest.

The Control of Rural Land.

CARTs Today.

TRUSTS IN ACTION.

Conserving Tradition: The National Trusts.

From Grassroots to Federation: The Wildlife Trusts.

Single-Objective-Led Sucess: The Royal Society for the Protectionof Birds.

Private Land Trusts: Philanthropy or Survival?

Local Community Inspired CARTs.

Trusts from the Public Sector.

LAND MANAGEMENT: PROBLEMS AND POTENTIAL.

Actions for the Environment.

Finance.

Competition or Co-Operation -
An Ecology of CARTs.

The Role of Public Policy.

Implications and the Future.

References.

Index.