Creating Interactive Websites with PHP and Web Services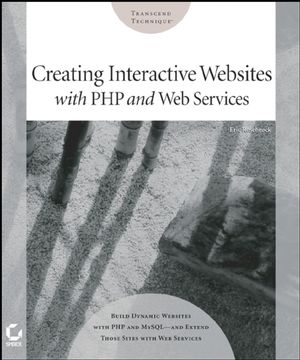 Description
Build Dynamic Websites with PHP and MySQL—and Extend Those Sites with Web Services
PHP and MySQL are great tools for building database-driven websites. There's nothing new about that. What is new is the environment in which your site operates—a world rich (and growing richer) in web services that can add value and functionality in many different ways. Creating Interactive Web Sites with PHP and Web Services walks you through every step of a major web project—a content-management system—teaching you both the basic techniques and little-known tricks you need to build successful web sites. And you can use those skills to develop dynamic applications that will meet your special requirements. Here's some of what you'll find covered inside:
Adding, deleting, and displaying data with a custom content-management system
Building a template system with PHP
Interacting with web services using PHP and MySQL
Creating and managing a user system and a shopping cart
Processing credit card payments using merchant accounts and third-party payment solutions
Tracking site statistics using PHP and MySQL
Enhancing your site with third-party scripts
Tons of examples, complete with explanations and supported by online source code, will speed your progress, whether you're a true beginner or already have PHP experience. This book is platform-agnostic, so it doesn't matter if you're deploying your site on Linux or Windows. You also get PHP and MySQL references, so you can quickly resolve questions about syntax and similar issues.
Introduction.
Chapter 1: Introducing PHP.
Chapter 2: Planning Your Project.
Chapter 3: Building a Database Schema with MySQL.
Chapter 4: Building a Website Template with PHP.
Chapter 5: Creating a Website Membership System.
Chapter 6: Developing a Website News System.
Chapter 7: Enhancing Your Website with Web Services and APIs.
Chapter 8: Creating a Shopping Cart System.
Chapter 9: Processing Payments for Your Website.
Chapter 10: Tracking Website Statistics.
Chapter 11: Using Third-Party PHP Scripts.
Chapter 12: Closing Statements.
Appendix A: PHP Reference.
Appendix B: MySQL Syntax Reference.
Index.
Download all the code files for the book in .zip format
This zip file contains all the code from the book. It will extract to a folder titled 4279-6_Code and can be used along with the book's lessons.
Download
Chapter
Page
Details
Date
Print Run
71
Code Correction,The last three lines lines of code shoud read:
<?php
} //close footer()
?>
73
Code Correction,Comment on closing bracket should read: //close myfooter()

Incorrect: // close myheader()

Correct: // close myfooter()

78
Two Code Corrections,First instance of $meta.="<TITLE>$this->sitename – ".
Change to: $meta = "<TITLE>$this->sitename – ".

Third instance of $meta.= "<TITLE>$this->sitename: – ".
Change to: $meta = "<TITLE>$this->sitename: – ".

96
Code Correction,Change first instance of
$errors .="<strong>Form Input Errors:".
"</strong>\n\n"

To:
$errors = "<strong>Form Input Errors:".
"</strong>\n\n";
118
Code Correction,Change first instance of
$errors .="<strong>Form Input Errors:".
"</strong>\n\n"

To:
$errors = "<strong>Form Input Errors:".
"</strong>\n\n";
120
Text Correction,Third paragraph: // If username exists, generate error and message.

Should read: // If username/e-mail address exists, generate error and message.

131
Code Correction,Change:

$alphanum = "abcdhefghjkmnpqrstuvwxyz0123456789";

To:

$alphanum = "abcdefghjkmnpqrstuvwxyz0123456789";

138
Code Correction,Change both references of:

echo '<a href=="/lostpw.php">Lost Password?</a>';

To:

echo '<a href="/lostpw.php">Lost Password?</a>';

Author's Note
Author's Note,This book assumes that you have PHP's error_reporting and display_errors directives turned off on the local website you are developing on. Please look at your php.ini, make the appropriate changes and then restart your web server. You may alternatively set these PHP directives in your web site Document Root directory via the .htaccess file or your httpd.conf file for Apache. This book also requires you to have PHP's short_open_tags directive turned on. An indication that this is not turned on is that you may notice PHP code echoed through your form fields. Turn this directive On and then restart your web server.
Entire Book
Code Correction,Change all references of:

switch($_REQUEST['req']){

To:

$req = (!isset($_REQUEST['req'])) ? 'default' : $_REQUEST['req'];
switch($req){